Ever since elementary school I've associated St. Patrick's Day with green food. This is likely due to the Irish family that generously provided green bagels for all. Then in college it was green beer(s). Now, as a parent, I'm working to make the holiday festive without all the usual sugar and artificial food coloring. Enter homemade Shamrock Shakes and these Green Oat Pancakes.
Since this is kid-focused food, I've mostly been relying on mild spinach as my green color booster. It adds the pop of green and some extra nutrition, without too much flavor or any junky stuff.
The oat pancakes are sort of a hybrid between a traditional pancake and Irish oat cakes, meaning they're thick and chewy while still being cooked in a griddle.  My son loved eating these (with chocolate chips added) more like a cookie than a pancake so we didn't bother with toppings, forks, or knives.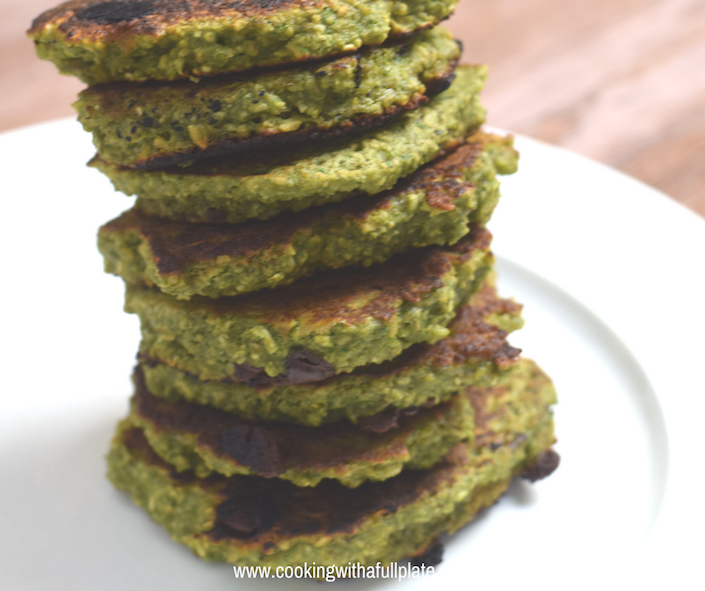 Why Oat Pancakes?
These are a twist on my more traditional pancake recipe. I chose oats because they're packed full of fiber and easily found gluten-free. Since we're using a food processor to make these already, it was super easy to just add in the rolled oats and make them into more of a flour right along with all of the other ingredients.
I was also inspired to use oats here by the Irish Oat Cakes that I've tried. More like a biscuit than a pancake, they are a thick cake that's usually topped with butter or jam. In this case, I made the recipe even faster by cooking it in a griddle and made it more fun by adding some green, but if you're looking for something more traditional this looks like a great recipe.
All of that said, make sure that you buy rolled oats for this recipe. Why does it matter?
Rolled oats have been steamed and flattened before packaging
For this reason, they make a quicker cooking substitute to steel-cut oats
Because they've been cooked a bit they also blend more easily in the food processor
Quick cooking oats may get too mushy if you try to use them here because they've been cooked and processed more
Here's what the process of making your oat pancakes will look like:
Green Oat Pancakes Recipe

Ingredients
2 dates
1 large handful spinach
2 eggs
1-2 cups almond milk (or other milk)
2 cups rolled oats
2 tsp baking powder
1/4 tsp salt
1 Tbsp vanilla extract
Chocolate chips (optional)
Butter for skillet
Instructions
Combine pitted dates, spinach, eggs, and 1 cup almond milk in the container of a food processor. Process until smooth, adding a touch more milk as needed.
Add rolled oats, baking powder, salt, and vanilla extract. Process to combine until well mixed (oats won't. be totally smooth). If the mixture looks way too thick, add in a little more milk at a time and blend again. The final consistency should be a little gritty and about the consistency of cake batter, which will result in thick and chewy pancakes.
Heat a large skillet over medium heat. Add butter and then scoop about 2 Tbsp of batter into cakes in pan. Cook until you see bubbles on top then flip, add a few chocolate chips if desired, and cook a couple more minutes.
http://cookingwithafullplate.com/green-oat-pancakes/
What are you making to celebrate St. Patrick's Day this year?