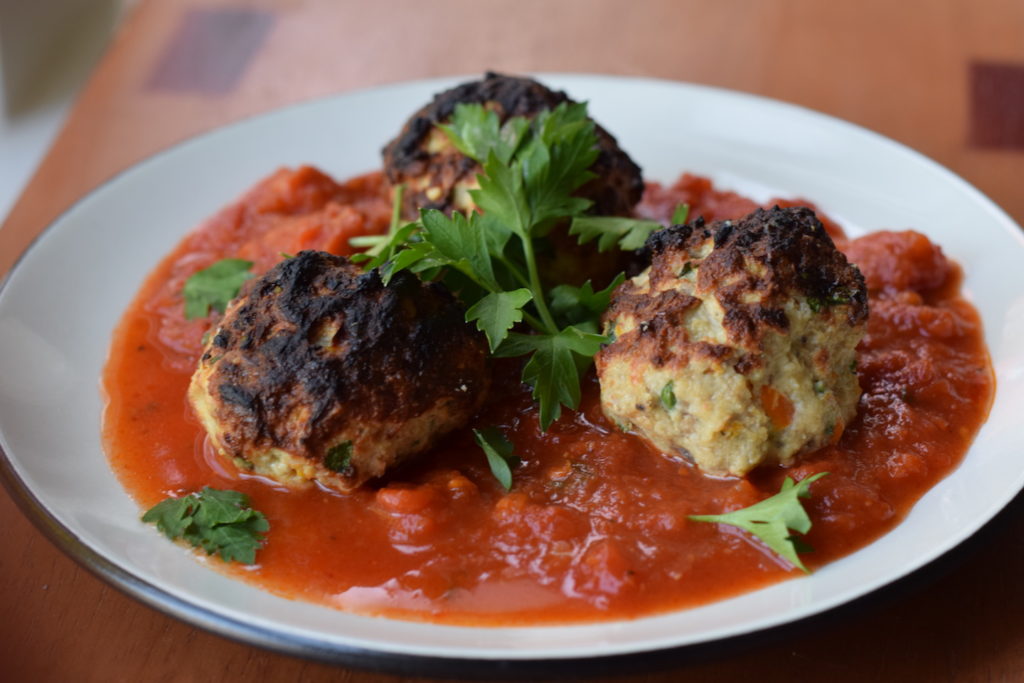 Is there any mom out there who isn't looking for that magical combination of easy, healthy, and tasty options for dinner? No, really. If she's out there I need to meet her and find out her secrets, because I feel like I'm constantly on the search for this elusive answer. Until, that is, I found the magic of veggie-packed turkey meatballs. (Though who am I kidding? I'll always take more easy, healthy, and tasty options.)
What's so magical about this recipe? Well. Basically everything. But to be more specific:
The ingredients are all chopped in the food processor (or by hand if you don't have one)
They're gluten and dairy free
They're wholesome and nutritious
They can be made ahead and freeze and defrost well
They're super tender without falling apart
Kids LOVE them (I can't guarantee ALL kids…they're not that magical)
Make Them Ahead of Time and Freeze!
I love recipes like this one that you can make in bulk, freeze, and know that you have on hand for a healthy meal anytime. Recipes and strategies like this  are what keep us from eating takeout on busy nights or nights thrown off by the witching hour.  These are also a great option for families with working parents or kids in sports who need a quick and easy dinner but still want something nutritious.
My favorite part? If you make these ahead of time and freeze them, you basically have a meal you can fill good about all packed into one meatball! Better yet, if you have an Instant Pot, you can use these to make Soccer Mom's Spaghetti and Meatballs…but healthy!
Here's a Facebook Live where I did just that.

I make it healthier by using:
These veggie-packed turkey meatballs
Rao's Tomato Sauce – all natural, wholesome ingredients and best flavor around!
Brown rice pasta – I find if I follow the instructions in the link above it works just as well with brown rice pasta
Ready to make them? Me too. We're running low…
Note: You can easily double, triple or quadruple this recipe. Meatballs will stay good 3-6 months in the freezer.
Veggie-Packed Turkey Meatballs
Veggie-Packed Turkey Meatballs (Meal Prep and Freezer Friendly)
Ingredients
1 carton mushrooms
2 bell peppers
1 onion
1 cup parsley
1 lb ground turkey
1 lb uncooked turkey/chicken/pork sausage, removed from casing if applicable
2 cups almond flour
4 eggs
Salt and pepper to season
Instructions
Prep:
Chop vegetables into a fine dice in the food processor. It's best to do one type at a time, empty it into a bowl, and then chop the next. No need to clean out the processor between, but this will help you to get an even chop on each item.
Combine bell pepper mixture with 1 lb ground turkey, 1 lb Italian sausage (removed from casing so it's loose), and 2 cups almond meal. Mix well
In a separate bowl beat 4 eggs with salt and pepper. Add to turkey mixture (add ½ cup parmesan if using) and mix well with your hands
Make into golf ball sized meatballs (you should get about 40)
Lay meatballs out on one or two foil lined baking sheets
Set oven to broil
Broil meatballs about 7 min until browned on top
Store meatballs in fridge for 3-4 days or in the freezer for 3-4 months
When you're ready to eat:
Bring a pot of water to boil. Add pasta once boiling and cook according to package directions
In a medium pot, add jar of pasta sauce and meatballs. Simmer while pasta cooks to warm and cook through
Combine pasta and tomato sauce and serve
http://cookingwithafullplate.com/veggie-packed-turkey-meatballs/
Pin it!