I'm always looking for ways to add more veggies to our favorite foods! Some like to call this sneaky, but I just call it practical, especially since I'm always in need of great vegetable rich additions to school lunches. Enter turkey zucchini meatballs.

The shredded zucchini keeps the turkey meatballs more moist than usual and adds an extra dose of nutrition!
With just about 10 minutes prep time, followed by a short stint in the oven, these meatballs store well for 3-4 days in the fridge or even longer in the freezer. I like to add them to the kiddos lunchbox or reheat them briefly in some tomato sauce before serving over pasta. These are especially a breeze if you have a food processor on hand.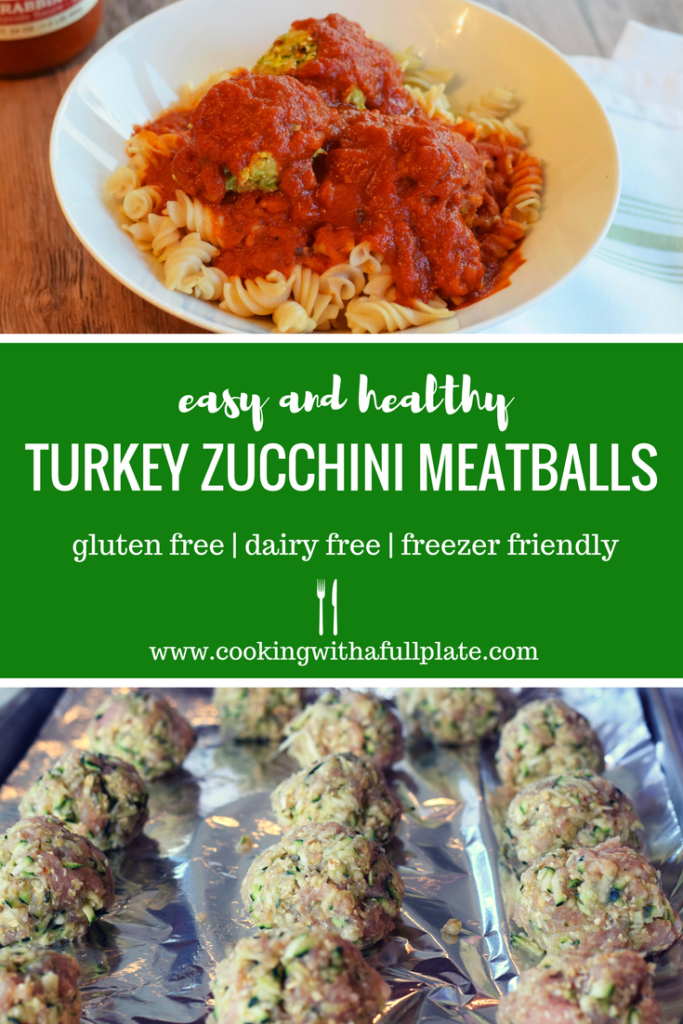 Want to see just how easy this is? Check out the video I made that walks you through all the steps:
Turkey Zucchini Meatballs Recipe
Turkey Zucchini Meatballs
Ingredients
2 medium zucchini
1 cup oats
1 egg
1 tsp oregano
1 tsp salt
1/2 tsp red pepper flakes
1 lb ground turkey
Instructions
Preheat oven to 350° F.
Using a food processor (if you have it): shred the 2 zucchini with the shredding blade. Then grind oats to a fine flour using the chopping blade. You can also replace the 1 cup oats with 1 cup other flour if you don't want to grind it.
In a bowl combine the zucchini, oat flour, spices, and turkey. Mix together well with your hands until all combined.
Use an ice cream scoop to portion out mixture. Roll into a ball between your hands and then place on a lined baking sheet. Repeat with remaining mixture.
Bake for 20-25 minutes until meatballs are done in the center.
Notes
These meatballs are a great addition to kids' lunches.
They can be stored in the refrigerator for 3-5 days or in the freezer for 6 months.
One great way to reheat is to put them in tomato sauce and bring to a simmer until the sauce and meatballs are heated through. Serve over pasta, spaghetti squash, or other noodle alternative.
http://cookingwithafullplate.com/turkey-zucchini-meatballs-recipe/
Enjoy!