I'm sure I don't need to tell you, but Thanksgiving is nigh. Though maybe in a strange time like the one in which we currently reside, I do need to remind you.
I, for one, am looking forward to a holiday that is focused entirely on being grateful, spending time with the people you love, and eating great food. I can't think of anyone who couldn't use more of that.
Unfortunately, even these glorious occasions seem to cause loads of stress as we stare down the prospect of cleaning our house, opening our home, and cooking a meal for 4 or 24 or 44 people.
Since I'm not hosting Thanksgiving myself this year thanks to a move away from family that now requires flying amidst the holiday craziness, I'd love to share my lessons learned from Thanksgivings past. What do I know? I've hosted Thanksgiving celebrations for up to 40 people in the past during which I was sometimes the only person doing the cooking. Plus, a couple times these Thanksgivings' weren't in my home which meant I was working with unknown space, equipment, and ingredients.
Wanna know the one thing that's saved me and kept me coming back to hosting Thanksgiving over and over again?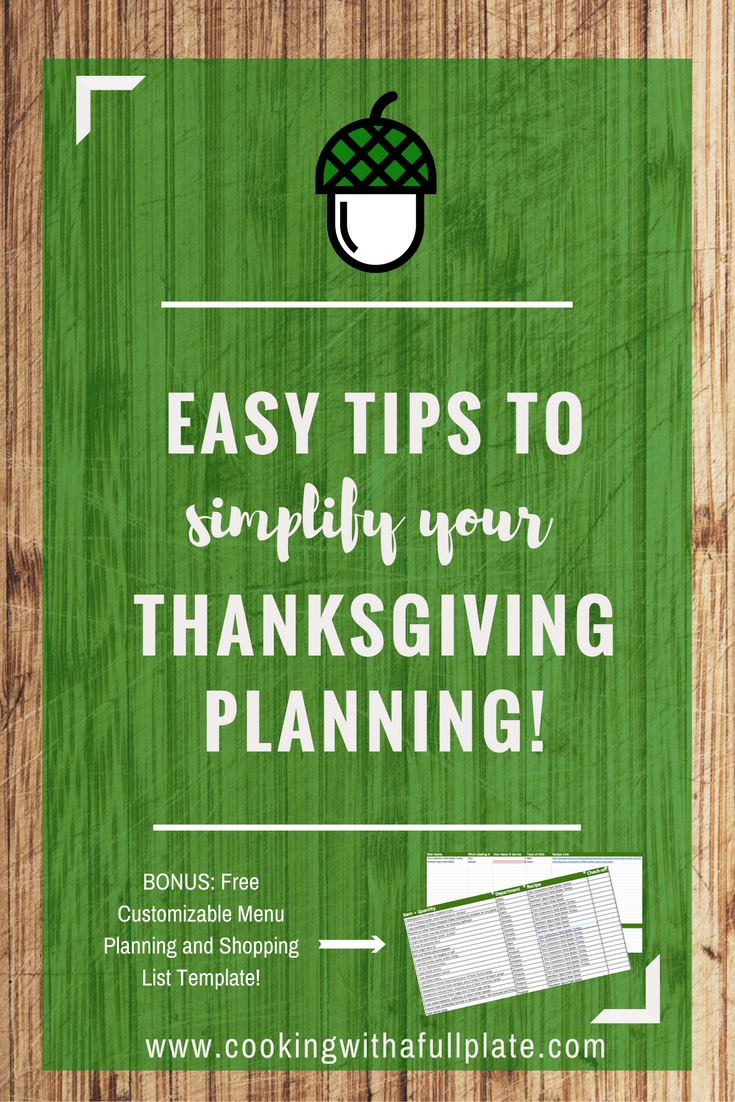 Planning
Planning is your key to successfully hosting any large dinner or holiday. And for me, this planning has two facets:
Identify your menu and associated shopping list ahead of time
Lay out your schedule for what you'll do when the week of your event to minimize cooking and prep on the day of
Identifying your Menu
It all starts with planning out your menu and creating a well-organized shopping list that you'll come back to time and again. Probably, for Thanksgiving, you already have a number of traditional recipes that you make year after year. Great! That's a wonderful place to start.
Still looking to fill in some gaps? Here are some resources that may work:
Once you know what you're making, the first thing you'll want to do is jot it all down in one place. After all, this isn't just a weeknight meal and with so many moving pieces it can be hard to keep track of what you're making, who's bringing what, etc.
In order to make all of this easier, I've made a menu, planning, and shopping spreadsheet just for you! You'll just need to enter your email address to get the template sheet sent directly to you. Then you can make a copy to edit, modify, and plan as you please.
Not interested? That's fine too. I've included lots of the details below so that you can build your own custom spreadsheet or make your own similar handwritten version if you prefer.
Fill Out Your Menu
The first tab "Menu" is where you're going to build out your Menu plan and cross-reference information to ensure that you have everything you need.
First, you'll fill out your menu with the following: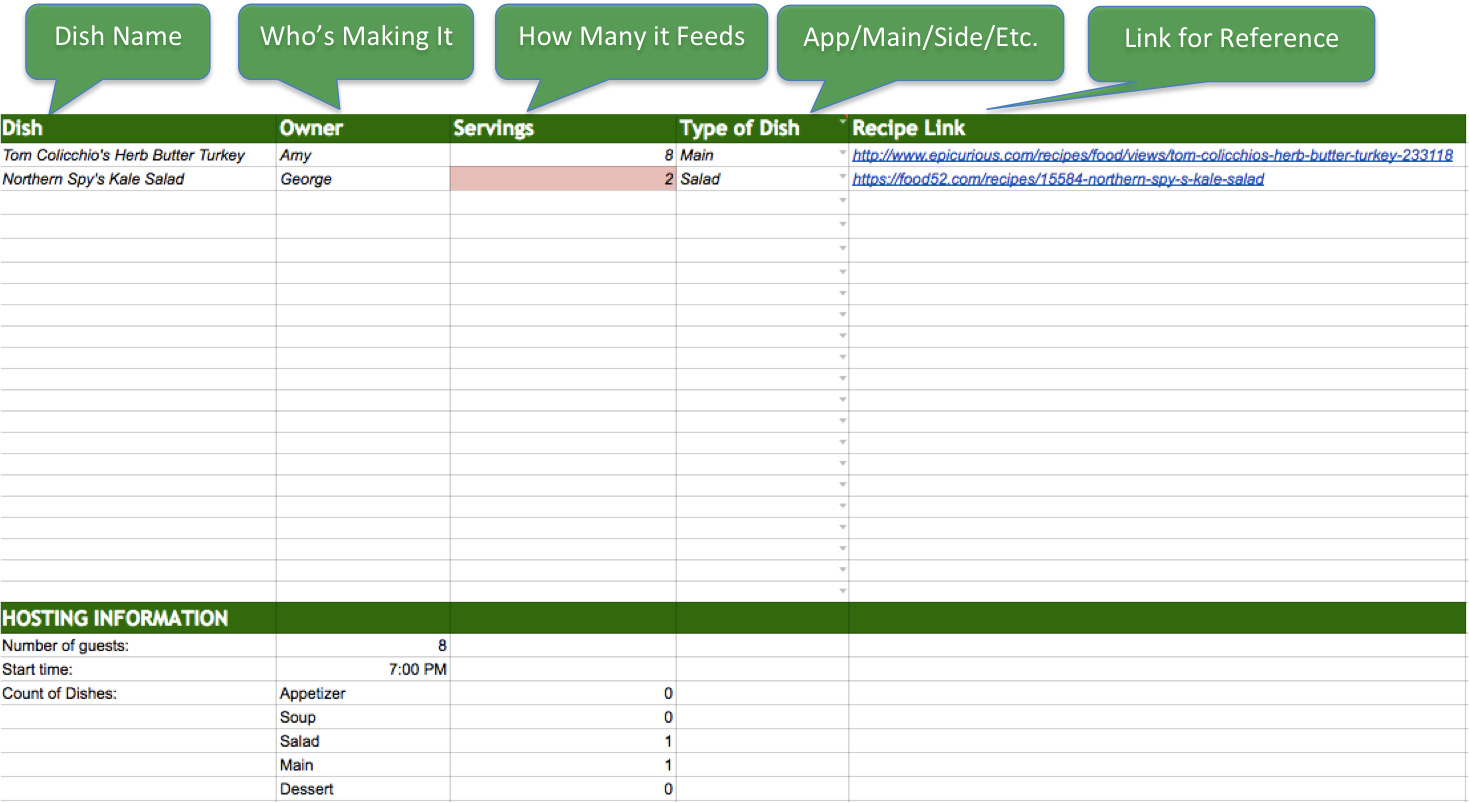 Then, let the spreadsheet know how many people you're having. This information will help you to cross-reference the serving sizes of your recipes with the amount of people you'll need to feed.
Note here in the example that I've set it up so that when you input a recipe that isn't equal to your number of guests (could be too little food or too much) it's highlighted in red: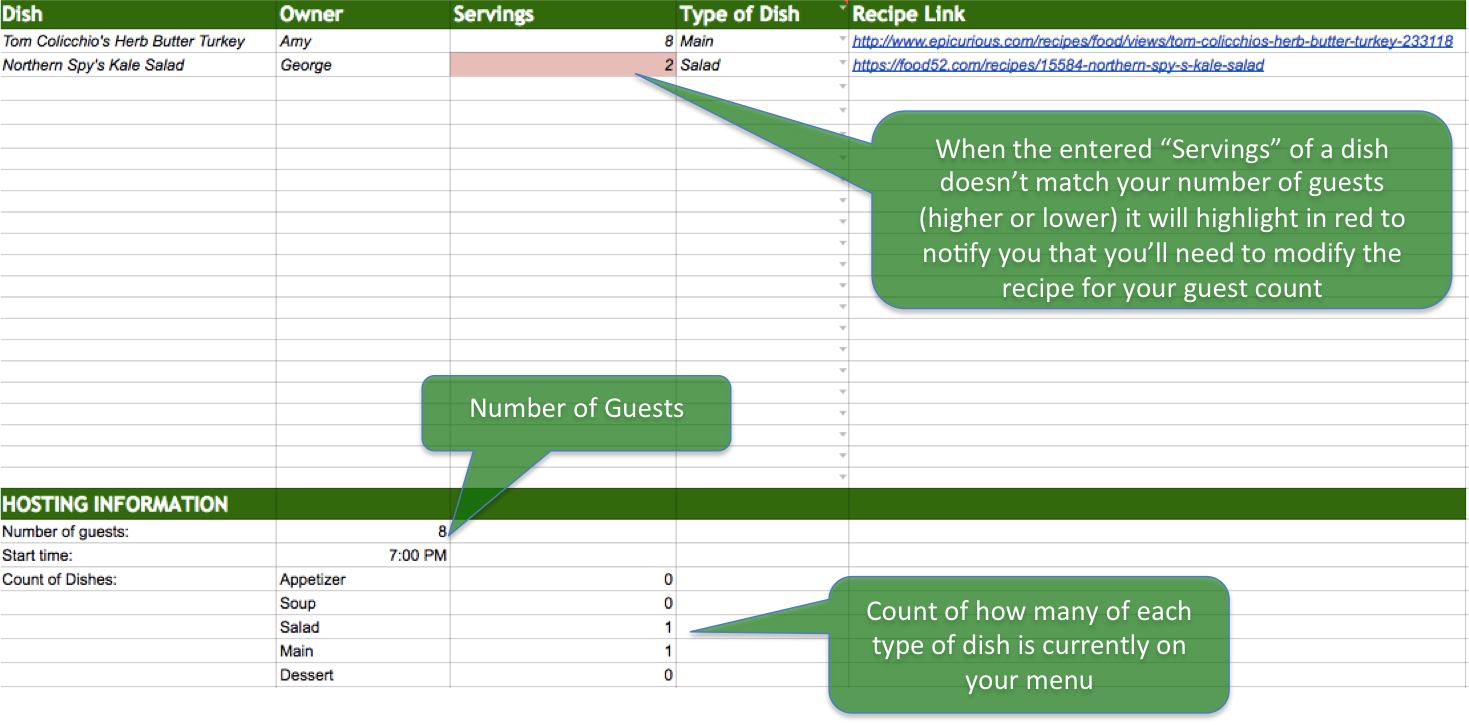 In addition, in the hosting section, the formula will automatically calculate how many of each type of dish you have. This way you can easily identify whether you have too many or too few items in any course.
Build Your Shopping List
Building your shopping list isn't sexy and it can certainly be a bit frustrating, but I promise that putting in the time and energy to this step is going to save you SO MUCH TIME later running to the store for forgotten items or panicking over missing components. Trust me, I know this from experience.
What you'll want to do here is go recipe by recipe to copy and paste the items from your recipe into the "Shopping List" tab under "Item + Quantity". As much as I know you might be inclined to write the quantity out separately, the upside of this combined approach is that it will require a lot less editing on your part. Here's how it'll look:
And here's an example of how I did this in less than 2 minutes per recipe:
Important note: As you go onto each new recipe, you'll want to be sure you check back in on the Menu page to identify which items you'll need to adjust the quantities on. For example, on the Menu page it was identified that "Northern Spy's Kale Salad" only serves 2 people as written which just own't do for our 8 guests. In this case, after I've pasted the ingredients for the kale salad, I'll go back in and do a quick adjustment on the quantities (in this case 4X) to ensure my shopping list will have me buying enough food for everyone.
Example: the original recipe list "1/2 cup cubed kabocha" but you can see above that I've updated it to say "2 cup cubed kabocha".
Once you've input all of your recipes and filled out their associated information including:
Department: Where you find it in the store. I've created a drop-down list here for you to select from.
Recipe: Which recipe this ingredient belongs too. There is also a drop-down list on this one created from the list of items in Column A of the Menu tab.
Now you'll want to sort your list by department for ease of shopping:
Select the "Filter" Arrow at the top of the "Department" column and select "Sort A-Z". Now you should see everything grouped by Department.
This is a good chance to validate your list, notice any overlap (e.g. there's butter listed twice for the turkey recipe alone, so I might want to make a note of the full total)
Note that column D is outlined for you to use as a "check-off" column as you're shopping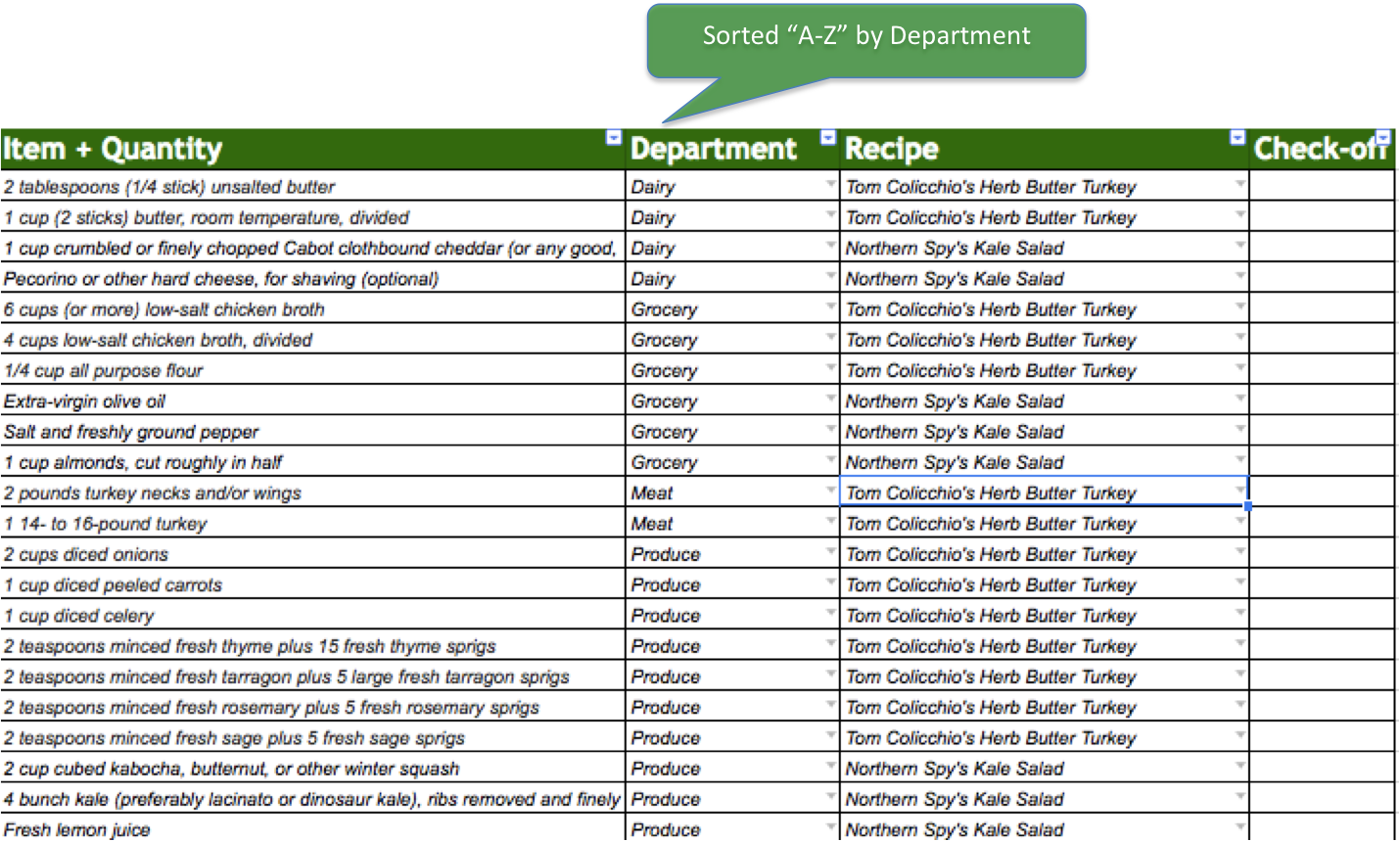 I know that this shopping list isn't perfect, but neither is listing everything out by hand. For ease of use, I've kept away from complicated formulas and organization, but feel free to manipulate, combine, and organize items in a way that works for you once you've inserted and sorted all your ingredients.
TA DA! You now have your Menu Plan and Shopping List fully planned out, organized, and ready to use. All of your recipe links are in one place, you've scaled recipes as needed, and you've identified where any gaps in the meal might be.
Join me back here later this week for a more detailed discussion about the art of building a game plan and how to use the Game Plan tab of your spreadsheet. Don't forget! You can get the spreadsheet I used above for free, just by entering your email. The template you receive is fully customizable and can be used over and over again to plan for any occasion.