It's 5:30 pm. The kids are hungry. Your spouse just called to say they'll be home late from the office. What are you going to serve for dinner?
I've faced this dilemma a time or two and know that as a parent it's more important than ever to have meal fixings on hand at all times. Of course, keeping the fridge stocked is a project in and of itself, which is why when I built my healthy pantry list I made sure that it included ingredients that could make at least 3 different dinner options in less than an hour total. The ones we use in our house are:
Quinoa curry with chickpeas

Paella style shrimp and brown rice

Pasta with broccoli, beans, and tomato sauce
I'll be the first to admit that these are totally utilitarian meals (aka not the kind you'll find me feeding to guests). But they are pretty tasty, nutrition packed, and cheaper than takeout – and sometimes isn't that worth more than gourmet anyways?
So today, let's talk: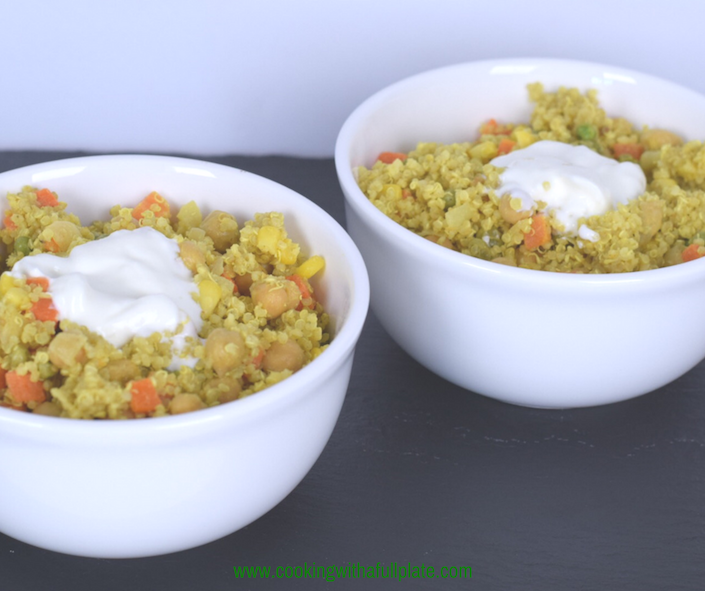 Quinoa Curry with Chickpeas
If you've stocked your pantry via my list you already have all the ingredients. If not, add these to your shopping list this week so you can be ready to make this meal when you're next in a pinch:
1 cup quinoa

Can garbanzo beans

1 bag mixed veggies (I like the small cut carrots, corn and peas for this, though it's not the MOST nutritious)

Curry powder

Ginger

Garlic

Onions

Lime

Salt and pepper

Coconut oil

And here's the recipe:
Quinoa Curry with Chickpeas
Ingredients
1 onion
2 cloves garlic
1 inch ginger
1 Tbsp Coconut oil
1 cup quinoa
1 Tbsp curry powder
1 can garbanzo beans
1 bag mixed veggies (I like the small cut carrots, corn and peas for this, though it's not the MOST nutritious)
Juice of 1 lime
Salt and pepper
Instructions
Dice 1 onion
Finely mince 1 Tbsp ginger and garlic
Saute in coconut oil
Add in curry powder and quinoa. Stir to combine well about 2 minutes. Add in 2 cups water. Bring to a boil, reduce to simmer and cover.
After about 10 minutes, add in frozen veggies and drained garbanzo beans (and a touch more water if it looks like it needs it). Replace lid and cook 10 more minutes.
After 20 minutes total open and test that the quinoa and veggies are cooked through. Season with salt and pepper to taste. Add a dash of lime juice to taste for extra "brightness".
Bonus points: top with chopped toasted cashews and fresh cilantro if you have them.
http://cookingwithafullplate.com/quick-and-healthy-quinoa-curry/