Looking for a quick, easy, vegetable-rich option for the week ahead? Me too. Meet my latest recipe for easy and healthy peanut sesame noodles.
Calling this a recipe may be generous. It's really more of a guide. But what parent has time for fussy recipes anyways, AMIRIGHT?
Below you can check out a quick video on how I throw this together to see exactly what I mean by not fussy. Not enough sauce? Add a little more. Want to use chicken instead of tempeh? Easy peasy. Live in a peanut free house? Use a different nut butter (including sunflower) instead.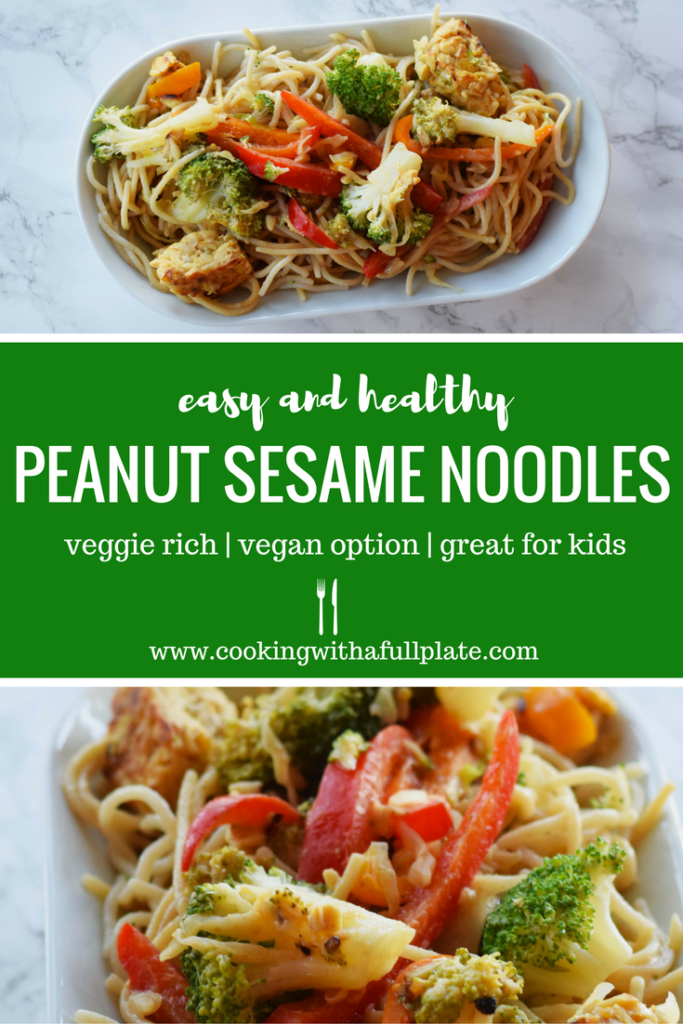 Peanut Sesame Noodles
Ingredients
1 package brown rice spaghetti
1 bunch broccoli
1 bell pepper
2 cups shredded cabbage
1 package tempeh or tofu, 1 lb chicken, or 1 lb shrimp
1-2 Tbsp avocado or coconut oil
1/4 cup peanut butter
Juice of 2 limes
1 Tbsp toasted sesame oil
1 Tbsp soy sauce (gluten-free if needed)
Hot sauce or sriracha (optional)
Instructions
If you'd like, feel free to cook up the following a couple days and store in fridge or immediately ahead of time: cook pasta according to package instructions; cut broccoli into florets and boil in water 4-5 minutes until bright green, then run under cool water; slice bell peppers; slice cabbage if needed.
When you're ready to make the recipe:
Cut protein option (tempeh, tofu, chicken, or shrimp) into bite sized pieces
In a large saute pan, heat up oil. Once hot, add in the protein and brown on all sides.
While protein is browning, mix together peanut butter, limes, sesame oil, and soy sauce. Taste for flavor. Adjust as needed, but note that it should be on the strong side.
Once protein is browned, add in bell peppers, broccoli, and cabbage and stir. Cook 3-5 minutes until softened.
Add in cooked pasta and the sauce. Toss to coat and cook a couple minutes to warm through.
Serve or store for 3-4 days in the fridge.
Notes
Gluten-free, vegan optional
http://cookingwithafullplate.com/peanut-sesame-noodles/