Nachos? On an easy and healthy recipe site? You bet.
This nacho salad, which we've been making for years in different variations, is a great example of making any recipe healthier. Despite the image that "nachos" might bring to mind this dish is packed with nutrient-rich vegetables, plant-based protein, and a feel-good sprinkling of cheese.
Feeling ambitious? When I used to have more time on my hands (aka pre-kids) we'd make our own tortilla chips (tips below, it's super simple) and vegan cheese sauce (a little harder) to make this extra healthy. Nowadays I'm happy if we've managed to get more than one color of vegetable on our plates. #truth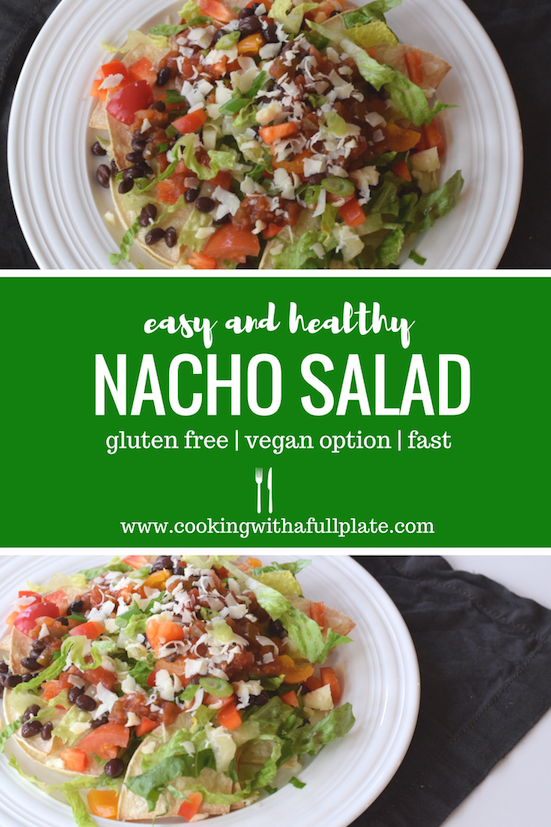 Nacho Salad Recipe
Ingredients
4 cups tortilla chips (homemade or store bought)
2 cups shredded romaine lettuce
1 bell pepper, chopped
1 cup cherry tomatoes, quartered
1 cup black beans, drained
1/2 cup salsa
1/2 cup cheddar cheese, shredded
Other great additions: guacamole, pickled jalapeño peppers, sliced green onions, cilantro
Instructions
Divide chips up amongst 4 plates. Create an even layer across the bottom of the plate.
Layer each plate with 1/4 of the shredded lettuce, chopped bell peppers, quartered cherry tomatoes, salsa, cheese, and other optional toppings.
Enjoy!
http://cookingwithafullplate.com/nacho-salad/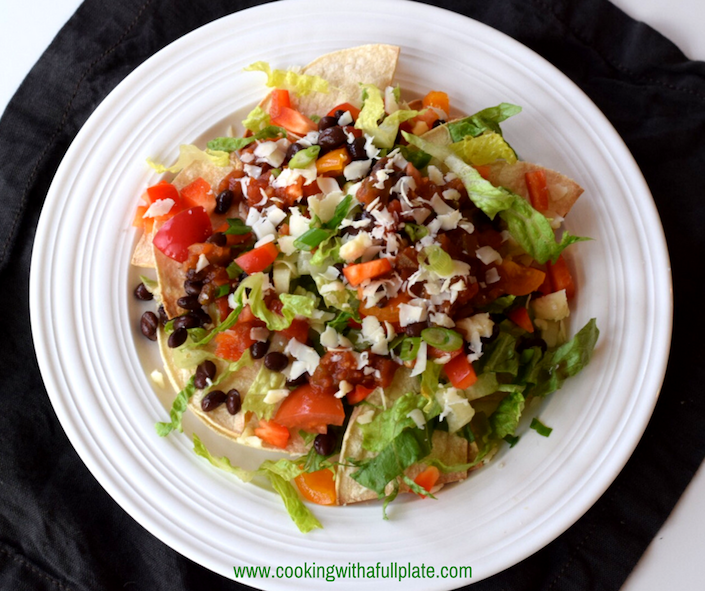 Make it your Own
There are all kinds of great ways to play around with this recipe? In fact, calling it a recipe might be generous. It's really more like an idea that you can take any way you want. Here are some of my ideas:
Paleo? Switch out tortilla chips for plantain chips, use seasoned ground beef instead of black beans, leave off the cheese (and definitely add the guac!).
Vegan? Leave off the cheese or switch it out for some vegan queso.
Want to make it even less processed? Switch out the tortilla chips for brown rice and make it into a burrito bowl.
Want to keep it light? Make the tortilla chips yourself using the easy steps below.
Homemade Tortilla Chips
15 corn tortillas
1 lime, quartered
Pinch of salt
Preheat the oven to 400° F.
Grab a cookie sheet and add a cooling rack if you have it (this will help the air circulate more).
Cut tortillas into quarters. Lay on cookie sheet or cooling rack, making sure they don't overlap. Squeeze lime juice lightly over the tortillas and sprinkle with a pinch of salt.
Bake in the oven about 20 minutes until lightly browned and crispy. Remove from oven and allow to cool (they'll get more crispy) before using.
What's your favorite nacho topping?