To continue the theme of beating the heat, let's talk about making your own healthy popsicles. I know, diy popsicle making feels like one of those fancy Pinterest things that noone who's busy actually does.
Good news! Today I'm hitting you up with two popsicle recipes that go from smoothie to popsicle with ease, meaning you can make this in the morning or afternoon, pour the extra into a popsicle mold, and then wait a few hours for them to freeze through before enjoying your healthy popsicles.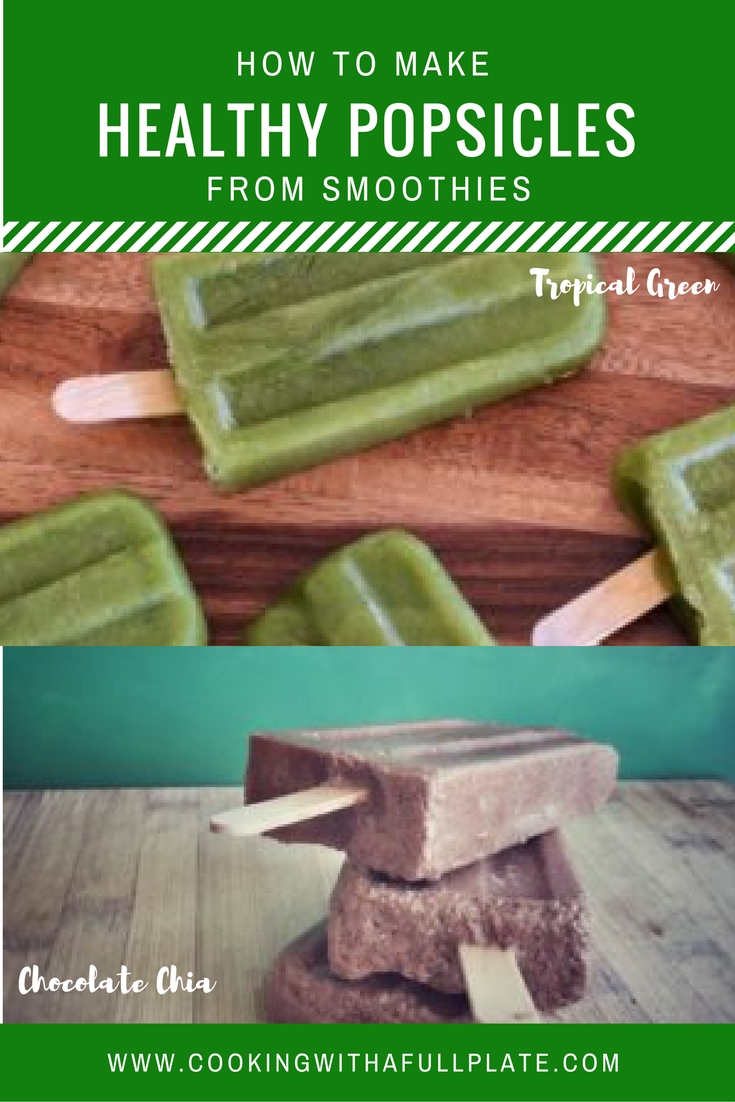 You will need some equipment to make these. Mainly: a blender and a popsicle mold. You probably already have a blender (though I'm always happy to sing the praises of my Vitamix). So let's focus on popsicle molds.
You can't go wrong with recommendations from The Sweethome. Seriously, from sheets to window fans, we pretty much just buy whatever they tell us at this point. You should listen to them. But before you get too lost in that site, make sure you come back here for the recipes!  I bought the Norpro Ice Pop Maker which was their recommendation for a crowd. Mostly I bought it because it makes the most "professional" looking popsicles and I like the old fashioned feeling of eating a popsicle on a "real" popsicle stick.
Without further ado, I bring you the recipes (one green and one chocolate – both vegan, gluten-free, and with no added sugar).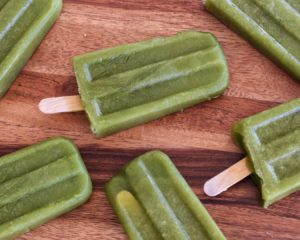 Tropical Green Smoothie and Popsicle
Makes: 1 large smoothie plus 10 popsicles in the Norpro Ice Pop Maker
1 bag frozen pineapple
1 banana
1 can coconut milk
2 handfuls baby spinach
Add all ingredients to blender an blend until smooth. Fill popsicle molds with mixture, add popsicle sticks, and freeze until solid. Drink the remaining mixture as a delicious smoothie.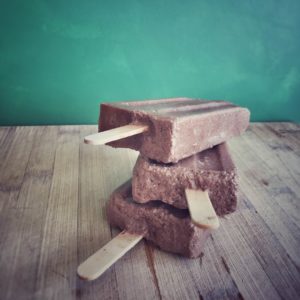 Chocolate Chia Fudge Pops
For this one, I basically turned my favorite chocolate chia pudding into a smoothie and pop. Can't go wrong there!
Makes: 1 chocolate smoothie plus 10 popsicles in the Norpro Ice Pop Maker
4 cups almond milk (or coconut milk if you want something even creamier)
1/3 cup chia seeds
4 dates
2 Tbsp cocoa powder (more if you like darker chocolate)
Ice (optional for smoothie)
Combine the milk, chia seeds, and pitted dates in a large container and let sit in the fridge overnight. In the morning, add pudding mix and cocoa powder in the blender and blend until smooth. Taste to check that there's enough sweetness from the dates and chocolate from the cocoa powder and adjust as needed.
Fill popsicle molds. Then drink the remaining chocolate chia mixture as a smoothie – feel free to blend it with a little ice or a frozen banana if you want something a little thicker!
Some of you may have already seen this one on Instagram, but I just can't with the cuteness. My little guy loved these fudge pops!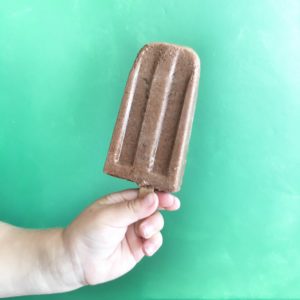 Looking for more homemade popsicle ideas?
I made this Pinterest board of delicious looking popsicles. No promises that they'll also be multi-purpose / drinkable like the ones above and I haven't tried them all myself, but maybe they'll inspire you to try something new!