For a while now I've been singing the praises of make-ahead and freezer friendly breakfasts, lunches, and dinners. Whatever you call it – meal prep, bulk cooking, make-ahead, or freezer cooking, it's a huge help in getting healthy food on the table for your busy family. After all, most of my survey respondents said that time was their number one barrier to feeding their family nutritious food as often as they'd like.
So in a continued effort to demystify the art of make-ahead cooking, I'm bringing you another breakfast recipe to help with the work/school/gym/life morning scramble. I now present my Kale, Feta and Egg Breakfast Wrap, an adapted version of Starbucks' Spinach and Feta Wrap, which keeps the great balance of flavors but packs an extra punch of nutrition and is more budget friendly to boot.
Why you Should Make this at Home
Have you ever had the Spinach, Feta, and Cage-Free Egg White Wrap at Starbucks? If not, you should try it! It's actually quite tasty and not-too-unhealthy especially in comparison to what else you might grab for breakfast on the go.
That said, there are two reasons that I recommend you make these at home anyways. (Pssst…this reasoning applies to most everything you make at home vs. buy out.)
You have control over the nutrition and contents of the food
You'll save money
Nutrition and Ingredients
While Starbucks really sells the egg white portion of things, I'd much prefer to feed my family the full-spectrum of nutrition provided by whole eggs. Despite the back-and-forth on eggs and cholesterol over the years, doctors have agreed that whole eggs provide more of important things like:
Iron
Phosphorous
Zinc
Folate
Vitamins (like Vitamin A)
Choline
Check out the full comparison here.
In addition, making this recipe yourself means that you get to choose the quality of the eggs. There's a running joke in our house that goes something like this:
Husband: Which eggs should I get?
Me: The most expensive ones.
Husband: Ha. Right. But there are these cage-free ones that cost a lot less, isn't that good enough?
Me: Well, see, cage-free doesn't actually have that much significance when it comes to the nutrition of the hens and I buy the pastured ones, which are the most expensive because…
Husband: Ok, ok. Let's get the $9 eggs.
But seriously, buy the best eggs that you can even if they're not the $9 ones. I'll explain my stance and reasoning in more detail another day in a dedicated post, but just think we always hear "you are what you eat" but if you're eating animals "you are what they ate". Pastured hens eat the best food possible and require the most space to roam which makes their eggs more expensive but also better for your family.
Aside from the eggs, look at what the ingredients list for the Starbucks version looks like:

And look what the home version looks like (this is with Rudy's Spelt Tortillas):
whole spelt tortillas (organic whole spelt flour, water, organic palm fruit oil, organic cultured spelt flour, hone, organic apple cider vinegar, sunflower lecithin, organic guar gum, sea salt, baking powder, cream of tartar, ascorbic acid), organic eggs, feta (organic pasteurized milk and nonfat milk, salt, cheese culture, vegetarian enzymes), kale
You could make even less processed choices to suit your dietary and personal preferences as well. For example, I made a few of these with Siete Almond Flour Tortillas (almond flour, tapioca flour, water, sea salt, xantan gum).
For full disclosure, this homemade version will run you about 30 more calories, but I hope you'll understand that this can certainly be a choice worth making when those calories are coming from more real, whole, unprocessed foods.
Save Money
Even at $9 per dozen, eggs only cost about 75 cents each, which is actually pretty inexpensive when you think of other proteins that you buy. In this recipe as written each serving has 1.66 eggs, so each one contains $1.25 worth of eggs.
Let's check out the full breakdown per serving based on what I used:
Eggs – $1.25
Feta – ~$.25
Tortilla – $.66
Kale – $.15
Total = $2.41
And drumroll please…the price of the Starbucks version: $3.25
Which means that even with buying premium and organic ingredients you can still save about 25% by making it at home!
How to Cook a Bunch of Eggs at Once
In order to get the most value from your time and money, you're going to want to cook a big batch of eggs for these at once. After all, the whole point of this recipe is that you can make it at the beginning of the week and have it ready to eat several times. To be exact, this recipe should last about 3-4 days when wrapped up and stored well in the refrigerator.
So, how do you do that without going crazy? I recently learned about sheet pan eggs and I'll tell you, it's the way to go with recipes like this one! They also cook up thin, which is perfect for a breakfast wrap usage.
Here's the basic principle:
Grease a half-sheet pan (about 12×17) with a Tbsp of coconut or olive oil
Crack 10-12 eggs (it's up to you how thick you want your egg filling) in a bowl and whisk together with desired seasonings. See the recipe below for details on what I used. Then pour into the greased sheet pan.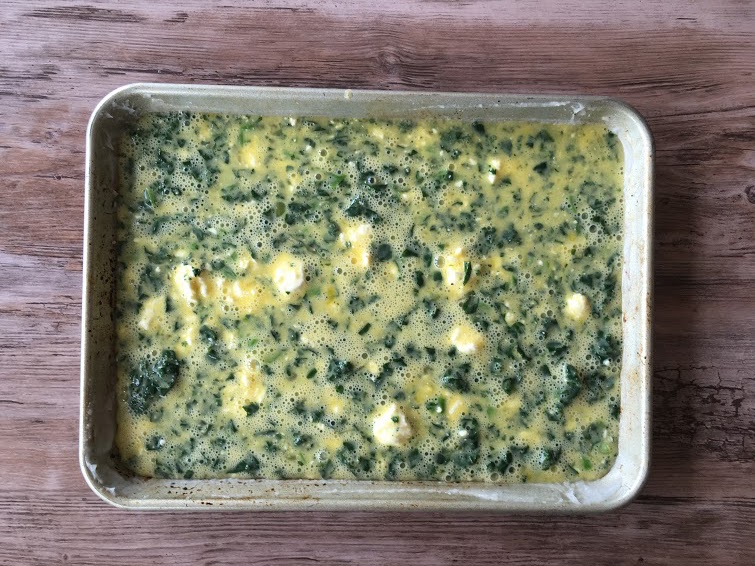 Bake in oven at 325° F for about 15 minutes or until solidified in the middle.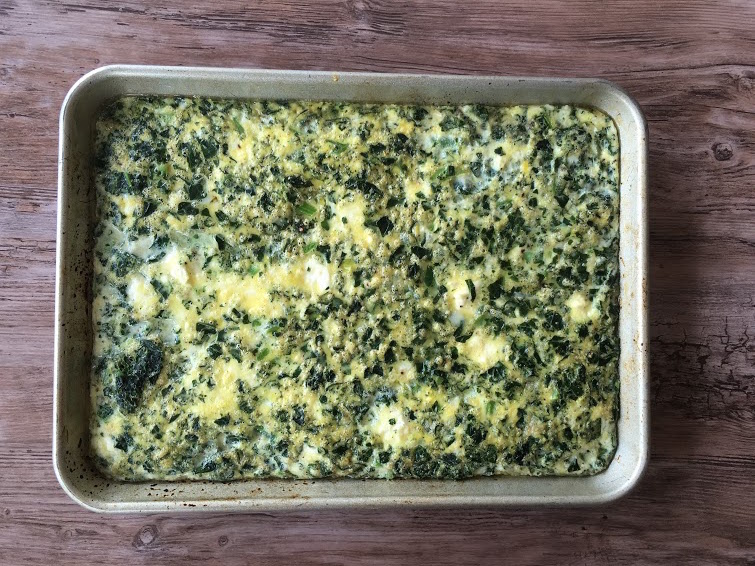 Cut into 6 even squares when cooled.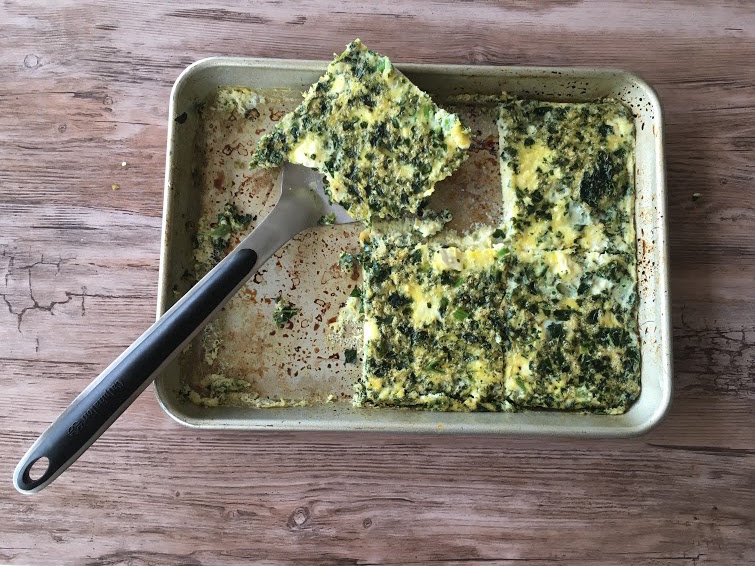 Et voila! Now you have your egg filling all baked up. At this point we'll package up the cooked eggs. When we're ready to eat, we'll wrap ours in a tortilla, but you could just as easily use a cup or bowl to cut it into rounds and layer them on whole-grain English muffins or toast.
The Kale, Feta, Egg Breakfast Wrap
(Make-Ahead, Gluten-Free Friendly, Paleo Friendly)
Kale, Feta and Egg Breakfast Wrap
Ingredients
10 eggs (you can use 12 if you don't mind it being a little thicker)
1/2 cup crumbled feta
1 cup frozen, chopped kale
Pinch of salt and pepper
1 Tbsp coconut oil.
6 tortilla wraps (whole grain, almond, and teff all work well)
Instructions
Preheat oven to 325° F.
Combine the cracked eggs, feta, kale, and salt and pepper in a large bowl. Whisk to combine.
Grease a half sheet pan with 1 Tbsp coconut oil. Pour egg mixture into the sheet pan and bake for about 15 minutes in the oven or until cooked solid all throughout. Allow to cool then cut into 6 portions.
Store egg squares for 3-4 days in a tightly lidded container.
When ready to eat, place egg square in a tortilla and wrap like a burrito. Enjoy cold or heat up in microwave or on stove top.
http://cookingwithafullplate.com/make-ahead-breakfast-wrap/
Want this to be Paleo? Leave out the feta and choose a compliant wrap like the Siete Almond Flour ones or a coconut version.
Want this to be gluten-free? You can keep the feta but choose a gluten-free wrap like the ones mentioned above or these La Tortilla ones.
Make-Ahead: It's been mentioned several times but just in case you missed it up until now, the cooked eggs will keep well in the refrigerator for 3-4 days. I recommend keeping them out of the tortillas until you're ready to eat them.
Freezer: I wanted so badly for these to be freezer friendly but the eggs just didn't hold up in the freezing and defrosting process. Eggs tend to get a little "spongy" and I just don't think that tastes great here.
Not sure how to wrap these up "burrito-style"? Check out my Facebook Live video where I show you how (plus you get to see how it crumbles when you use real-food ingredient wraps).
Have you had the Starbucks Egg Wraps before? Think you'll try to make these ones at home? I'd love to hear if you do!