As I scan the sea of toys that fill our house I'm left feeling hungry for more. Which seems ridiculous since there are toys stuffed on every step and corner.  Our two-year old really doesn't need any more toys, especially since he's a one track mind kind of kid who only really loves on one or two things at a time anyways.
All of that said, I think my desire for "more" hinges squarely on my desire for some things that are different. Toys or tools that will help give us some direction for activities and toys that will really help us to interact.  In my mind, these can be lots of things:
Board Games

Crafts

Cooking
I know that there are moms and dads out there who are probably thinking "but you can play with the trains and the blocks and the puzzles, you don't need more / different things." And while that's probably true, I've just never been one of those people who can sit and play the same imaginary game for hours. I so admire watching my son do it, but for the times when I really want to focus and interact, I find that more structured and directed activities suit us best.
Which brings us to my thoughts on holiday gifts for toddlers. Since I'm not an expert in them, I'm not going to talk about board games or crafts. But I do know food! And I do know cooking with toddlers. So here you have it, my…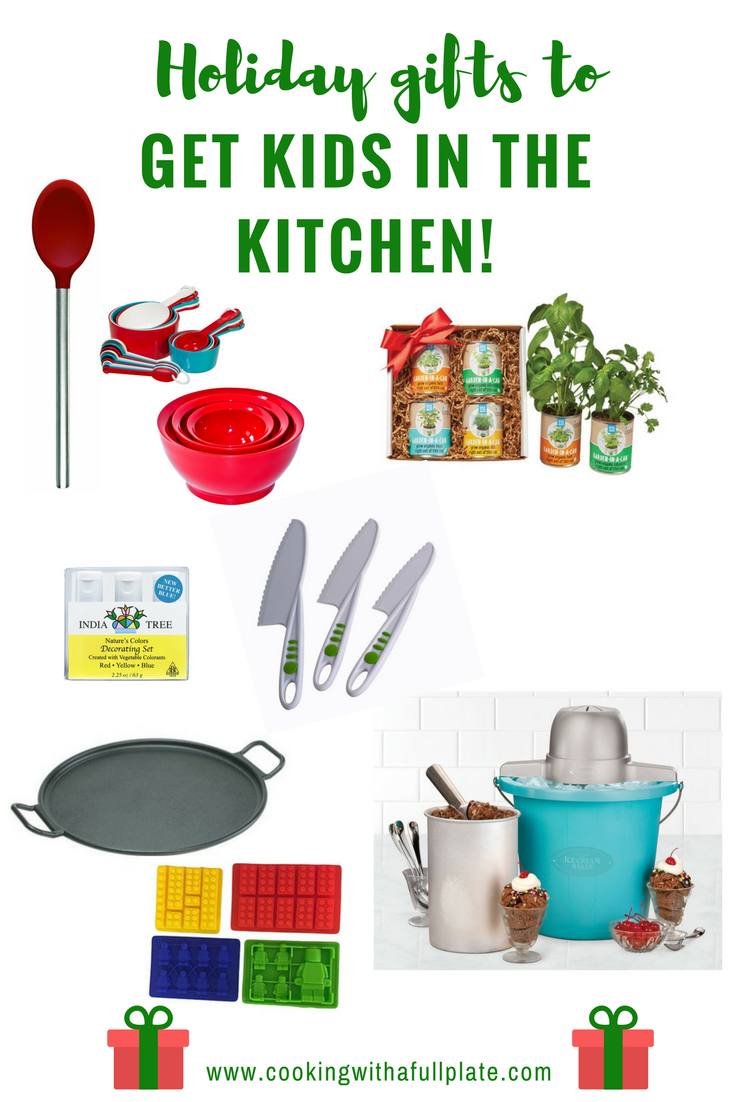 2016 Gift Guide for Cooking with Kids:
These aren't just for making adorable sugary snacks – though that's definitely a recommended use! In our kitchen we use cookie cutters for everything from shaping sandwiches for lunch to cutting thin slices of apples. It's a fun activity that kid's can help with that also makes ANY food more fun to eat.
I suggest getting a mixed set like this that preferably isn't just holiday focused so you can use it all year. Plus the plastic style seems nice since the metal ones can be a bit sharp for tiny hands that don't know the right way to hold them.
The target age for this gift seems to be around 4, so we haven't tried these yet in our household. Nevertheless, I think the kid-safe knives are a great gift for an eager helper, especially since they allow the kids to be more involved in prepping and cooking from an early age.
The major complaint on these is that, unsurprisingly, they aren't very sharp as they are built to be safe for kiddos and not cut through skin. This means that as your kids get a little older and more capable you may need to upgrade their knife skills and knives to enable them to take on a broader range of chopping.Both of the options listed above get great reviews!
Truth be told, you probably already have these in your kitchen and you certainly don't need to buy and store "special" ones. But if your current set is delicate or glass, you might consider getting some kid-friendly tools that they can use in the kitchen or play-time (our son goes crazy for using them to "make soup" while playing with rice).

We use food coloring for everything from making fun cookies to DIY play-doh and even just coloring water to play with (and then using those bowls and mixing tools above to scoop and mix). Since I know it's going to be eaten by kids, I want to make sure it's safe and something I feel good about. Beware that it's a little pricier and colors aren't as bright, but I take comfort in knowing these natural ones are made with real food ingredients.
Psst…feeling ambitious? You can also make your own.
Smoothie Tools: (see links below)
One of our favorite kitchen rituals is to make smoothies, which is a request by my two-year old almost every morning. You'll need a good blender if you don't already have one. Beyond that you'll need some frozen fruit, bananas, and maybe some greens on hand.
But on top of all of that, you'll want to have the right "drinking accoutrements". We love our stainless steel straws, but these reusable ones look really cool too. A lidded cup also goes a long way to mess-free smoothie drinking for kids whether on the couch or on the way to school.
I really can't think of a better gift to give our kids than an understanding of where food comes from. As a black thumb myself, I've historically shied away from trying to grow things given their history of being a waste of time, money, and resources, but after my mild success at tomato growing along with my son's excitement about seeing them grow, I intend to make more of an effort on this in the future.
I've been seeing these homemade gummy recipes floating around the interwebs for a while now. And for good reason! They're naturally sweetened with fruit juice and rich with healthy collagen and nutrients thanks to the grass-fed gelatin. Candy molds like the ones above can make for fun shapes as you explore the world of homemade gummy making! (P.S. you could also freeze blended fruit and yogurt or leftover smoothies in these and then store in a baggy in the freezer for future enjoyment)
If you have a little one who loves ice cream (It's kind of a requirement in our house) then a homemade ice cream maker can be a great gift that will help increase connection to food and ingredients and also provide a great activity to share in the kitchen.  
I trust pretty much everything that Sweethome recommends and if you really feel like you're going to love making ice cream then maybe you're ready to invest in the $250+ option.
But if you haven't made ice cream before and want an easy, fun activity for your kids, I think this ~$25 more old-fashioned style one is more appropriate (and maybe even more fun!).
Pizza is one of my favorite things to make as a family because so many of the steps lend themselves to being done together. You could make and knead the dough with your kids, get the help of older ones in rolling it out, and the whole family can pick and make their own toppings. If Family Pizza Night sounds like something that would bring you all together in the kitchen, I highly suggest giving the gift of a pizza stone. This small tool, which can live in your oven if you're short on space, makes all the difference in giving you that crispy crust.
This is the one I'm jonesing for since leaving my last stone behind in a move (for the second time in my life – doh!).  I love that this one is versatile and can be used for other purposes including: pancake/crepe making, bread baking, stir-fry as well.
What gifts are you excited to give or receive this holiday season?