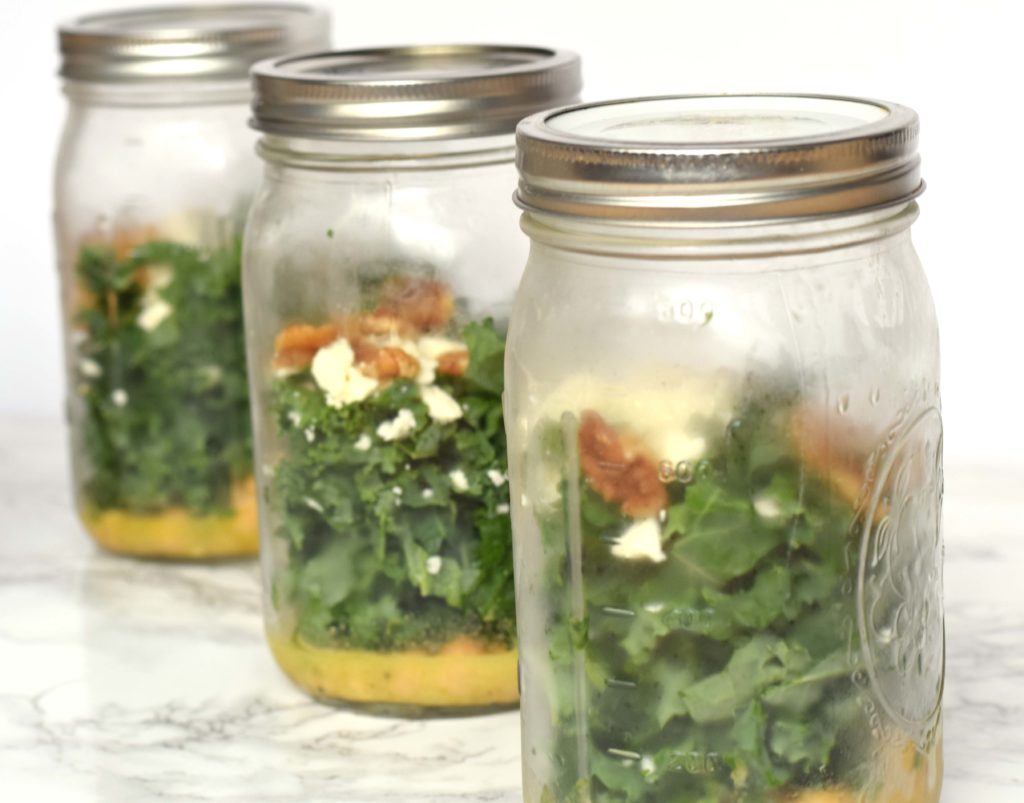 I once spent $17 on a salad from the Whole Foods salad bar. Let that sink in for a minute…$17! I could have made this mason jar salad ten times over for that price. Or bought a much more exciting meal than salad. Or seen a movie. (I guess that last one isn't so compelling. $17 doesn't go as far as it used to, does it?)
As a self-proclaimed salad aficionado, I've eaten my fair share of salads. And I've spent a sometimes ridiculous money on said salads. After all, if you think Whole Foods is expensive you should try getting a salad in an airport. Eating healthy ain't always cheap.
But the good news is that with a little planning and barely any prep, you can be set up for a week of healthy eating with these meal prep mason jar salads. Of course, there are about 1 million ways that you could take this technique and tweak it to your tastes, but this one is so yummy that you really don't need to!
Keys to Making a Great Mason Jar Salad
There are a few keys to making a mason jar salad that's packed with flavor but still will keep really well for 4-5 days so that you can enjoy it throughout the work week.  Here's what I've found:
Choose a large enough mason jar that you'll have space for all of you ingredients and still have room to shake everything together when you're ready to enjoy (I recommend at least 1 inch of space so for me a quart sized jar is perfect)
Pick a simple vinaigrette (homemade or store bought) as your dressing and place it on the bottom of the mason jar
Place hearty items like cooked grains and beans next so that they marinate in the dressing and keep the other ingredients protected
Next, add your favorite greens and other vegetables
Finally, layer ingredients that will add a burst of flavor and texture like crumbled cheese, nuts or seeds, and dried fruit
Store your salad, layered as described above, in mason jars in the refrigerator.  When you're ready to enjoy, remove from fridge and let warm up about 5 minutes (this will let the olive oil come to room temperature) then shake well and enjoy.
This is the Perfect Lunch for Moms
Seriously. As a mom, there are approximately a million ways that your day can go sideways. Whether you're home with your kids or going to work full-time, having a healthy meal like this on hand will help to make sure that when your day goes off the rails your eating doesn't follow it.
In fact, I've been known to throw this mason jar to my gym or work bag and carry it with me because it decision-proofs my day (and saves me money and means I can pack more into less time).
And don't even get me started if you have older kids running around and needing their own healthy options. This could be a huge help!
Here's how to make it:
Kale Feta Meal Prep Mason Jar Salad
Ingredients
1 cup cooked brown rice
1 bunch kale
1 can chickpeas
1/2 cup walnuts
1/2 cup feta, crumbled
Dressing:
1/2 cup olive oil
2 lemons, juiced
2 cloves garlic, minced
1 Tbsp dijon mustard
Salt and pepper to taste
Instructions
Combine dressing ingredients in a small mason jar and shake to combine.
Remove stems from kale and finely shred. Drain can of chickpeas.
Lay out 4 quart sized mason jars or similarly sized containers. In each container layer: 2 Tbsp dressing, about 1/2 cup chickpeas, 1/2 cup brown rice, 1/4 of shredded kale (about 1 cup), 1 Tbsp crumbled feta, and 1 Tbsp walnuts. Cover and store in fridge.
When ready to enjoy, shake to combine.
http://cookingwithafullplate.com/kale-feta-meal-prep-mason-jar-salad/
Need help chopping kale so it tastes great in mason jar salads like this? Check it out: