Imagine a reality in which you can make a healthy breakfast, lunch, or dinner anytime without having to run to the store first. What would you do with the time and money you save? Where could you put that extra brainpower or knowing you have backup meals any time? These are the things that have motivated me to work on optimizing how I stock a healthy pantry. Today I'd like to share some of my lessons with you.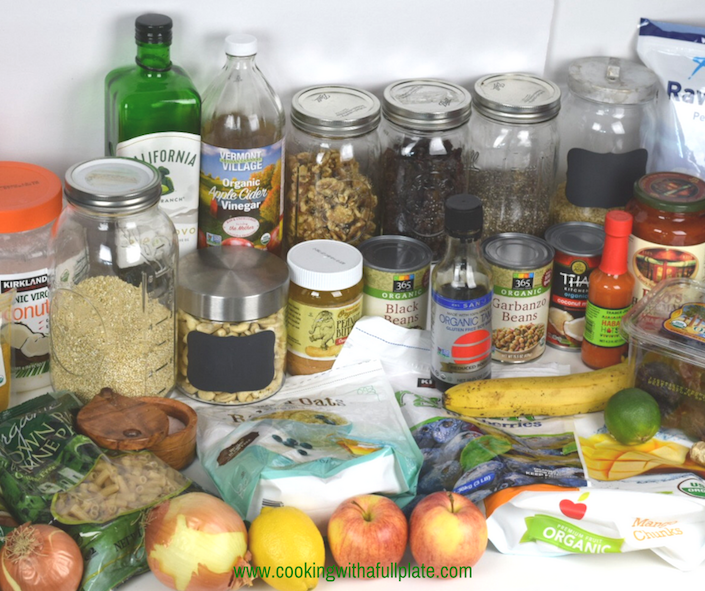 What is a Pantry?
This might seem like a silly question, but I encourage you to think of your pantry as more than just the shelves and cabinets of your kitchen. To me a pantry is my "back stock" (thanks grocery background, for that term) – the things I don't need right away but keep on hand for when I need them. Given this, I go beyond the usual shelf stable packaged items to include other things that keep a like time like frozen foods, cheese, and yogurt or the fresh things that I always try to have on hand
Everyone's healthy pantry will look different, of course, but there are some basic items that all of us can benefit from keeping on hand. These items are the ones that will empower you to make a healthy breakfast, lunch, or dinner any night of the week despite how bare your refrigerator may be or how long it's been since your last grocery trip. And who doesn't want that?
5 Questions to Help you Build your Healthy Pantry
My pantry checklist has been built and honed over years of trial and error. I've suffered with the overstuffed and nothing to make pantry and the minimalist but useless pantry just like everyone else. Now that I have a kid and family to feed, having healthy staples on hand all the time has become even more crucial because it's not so easy to just pop over to the grocery store at any moment.
Of course, my list reflects the way that my family eats and my cooking preferences and yours may be different from mine. Here are some questions to help you hone your healthy pantry list:
What are the two oils that you cook with most often? I recommend having one that's good for high heat cooking and one that's good for lower heat and dressing-making.
What whole grains does your family prefer? I keep two on hand at all times.
What 5 items do you reach for most often? I don't have flour on my pantry list because I usually have leftover and I can buy more when I have something I really need to make (I'm not much of a baker) but this might be a different story for you. If you are always eating chicken, how could you store it to make it last longer and become more of a pantry-style staple (e.g. cooking up lots of chicken and storing it sliced in the freezer)?
What is one easy meal that your family likes that you could make with only long-storing ingredients? Ours is pasta with tomato sauce, beans, and frozen broccoli, so you'll find all of those items on my list.
What 5 spices do you reach for most often? These are the ones that you'll always want to make sure you keep stocked. The rest you can buy and replenish as you need them.

My Healthy Pantry Checklist
My list has been honed over years of trial and error. I've often struggled with the overflowing pantry that doesn't actually have anything I need and I've even had some bouts with the minimalist pantry which usually ended up in me purchasing overpriced ingredients I needed at the nearest store.
Now that I have a family and kid to feed it's more important than ever that I have usable ingredients at the ready to make a meal or snack because "just running out to the store" isn't quite as easy as it used to be. I've built this list to ensure that I can make a meal happen on even the most desperate of morning or nights. Yours may, obviously, vary depending on your family makeup, preferences, and space, but I hope that you'll find this a useful starting place!
Pantry Storage Items
Oils: Coconut oil (for high-heat cooking) and olive oil (for low-heat cooking and dressings)
Vinegar: apple cider vinegar plus one lighter flavored one (balsamic, white wine, champagne or sherry)
Seasonings: salt, pepper, tamari, hot sauce
Spices: curry, saffron, cinnamon, cumin, coriander (these are my 5 must haves based on what I use most and what meals I store the ingredients to make. You can, of course, have more that you'll buy just as you need them)
Whole grains: brown rice and quinoa (pick your family's two favorites)
Pasta: at least one package brown rice pasta
Nuts: cashews and walnuts (pick two)
Beans: black beans and garbanzos (pick two)
Dried fruit: dates and raisins
Baking items: cocoa powder, vanilla, chocolate chips (I don't actually include flour on my list because I just buy it as I need it and then store extra – but I'm not much of a baker ;))
Nutritional yeast (great cheesey flavor substitute when you've run out)
Chia seeds (for smoothies)
Aromatics: a couple of onions, a head of garlic, lemon, lime, ginger
Fresh fruit: apples and bananas at a minimum
Sweetener: at least one. I keep honey
Freezer Storage Items
At least 2 kinds of frozen fruit plus some frozen bananas for smoothies
Frozen veggies: broccoli, at least one mixed veggie, and kale or spinach (for adding to smoothies or extra meal nutrition)
Peeled and deveined frozen shrimp (defrosts really fast so it's great for weeknight meals)
Refrigerator Storage Items
Obviously these have a shorter shelf life than the other items on the list, but they all last at least 2 weeks and are important staples in our house so we can make a meal anytime.
A couple kinds of cheese
Butter
Yogurt
Almond milk
Eggs
Sprouted grain bread (could be stored in freezer as well)
Condiments: mustard, mayonnaise, sriracha, and other favorites
What Can I Make?
If you really keep all these items on hand, you'll have countless meals that you can make at the drop of a hat. Here are some of my favorites! I'll be posting specific recipes throughout the next two weeks and will link to those as they're posted!
Breakfast
Smoothies: frozen fruit, frozen kale, chia seeds, almond milk
Overnight oats: oats, almond milk, chia seeds, raisins, vanilla, cinnamon
Toast with peanut butter
Toast with eggs
Lunch
Grain salad: quinoa, frozen veggies, vinegar, oil, cheese, nuts, dried fruit
Leftovers of anything else
Dinner
Paella-style Shrimp & Rice: brown rice, shrimp, saffron, butter, frozen mixed veggies
Curry Quinoa: quinoa, chickpeas, curry powder, onions, ginger, garlic, coconut oil, frozen mixed veggies
Any Night Pasta: pasta, tomato sauce, beans or shrimp, frozen broccoli
What are some healthy pantry staples that you'd add to your personal list?