Ready to get a jump start on holiday breakfasts? Me too.
We will have 11 people celebrating the holidays in our 1500 square foot home. I can feel the love and noise overflowing already.
In anticipation of this I've been trying to think of recipes that I can make ahead of time to reduce the kitchen mess that gets added into the mix.
Enter these healthy and whole grain egg nog pancakes. I've already mixed up a double batch of the dry ingredients. Now all I'll need to do is mix together the wet ingredients and we'll be eating festive, homemade pancakes in no time flat.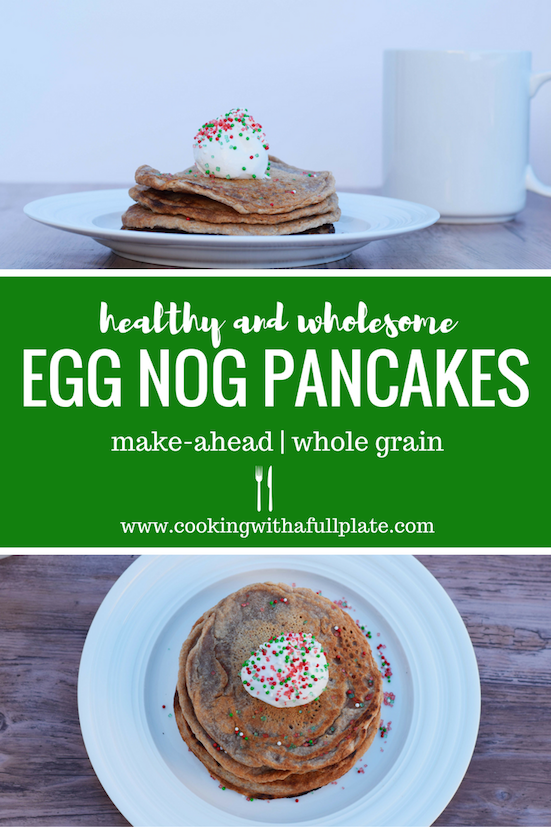 Healthy and Whole Grain Egg Nog Pancake Recipe
These wholesome pancakes have a light taste of egg nog and are taken over the festivity edge with the help of a little whipped cream and sprinkles. All in all they're a totally virtuous holiday breakfast option that feels fun and tastes delicious too!
Just the right mix of naughty and nice if you will 😉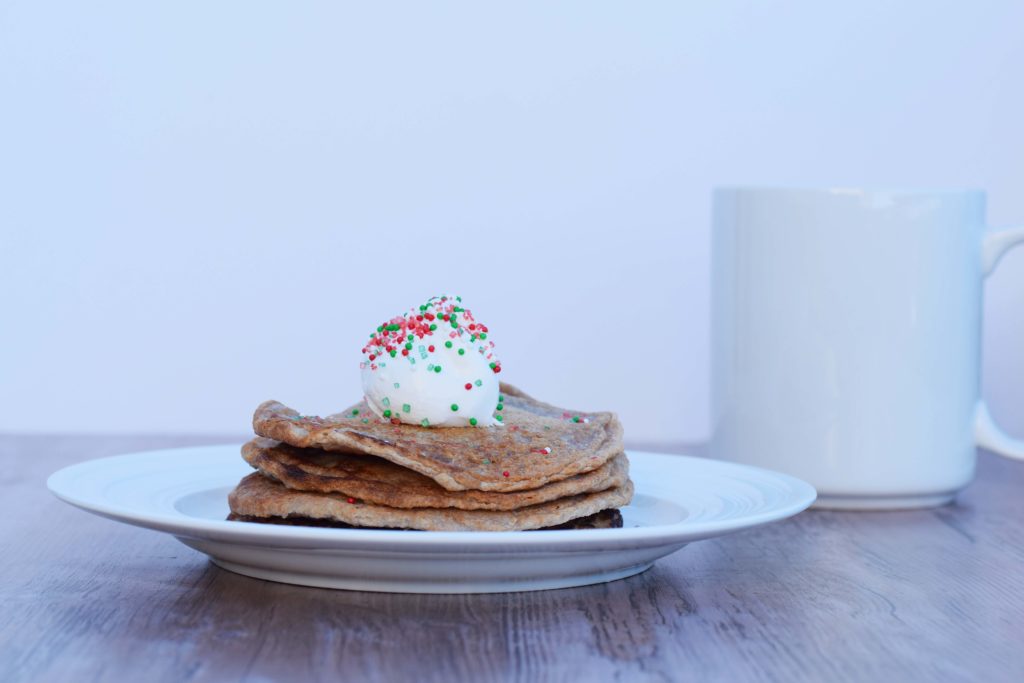 Healthy and Whole Grain Egg Nog Pacakes
Ingredients
2 cups whole grain flour (whole wheat, whole spelt)
2 tsp baking powder
1/4 tsp salt
1 Tbsp sugar
2 eggs or equivalent egg substitutes
2 cups egg nog (alternative nogs like coconut or almond milk nog are fine)
2 Tbsp butter or coconut oil, melted and cooled
Optional toppings: whipped cream and sprinkles or cashew butter
Instructions
Mix together dry ingredients in a large bowl.
In a medium bowl whisk together the eggs and 1 1/2 cups eggnog. Mix in cooled butter or coconut oil, then stir into the dry ingredients until mixed well.
If the mix looks too thick (doesn't "flow at all") add in up to 1/2 cup more egg nog.
Heat up a large skillet and coat with a little bit of butter or cooking oil. Add scoops of pancake mix to pan to make desired size pancakes.
When bubbles are forming on the surface, flip pancakes to cook on other side.
Top with whipped cream and sprinkles or cashew butter to serve.
Notes
Make-Ahead: The dry mix can be made and stored months ahead of time. You could even make it in big batches and then just measure out 2 heaping cups of mix when you're ready to make this or the standard recipe with them (just change out milk or milk alternative for the nog).
Freezer friendly: Cooked pancakes can be stored in the freezer and defrosted overnight in the fridge or in the microwave when you're ready to enjoy them.
http://cookingwithafullplate.com/healthy-egg-nog-pancakes/
What are you making for Christmas morning breakfast?