I know I don't need to tell any of you parents that life with kids is busy. I used to think I was busy before kids, and I was, but cooking and cleaning are even more challenging when a tiny person is tugging on your leg, asking to read Berenstain Bears for the 100th time that morning, and spreading their toys all over the house at the same time. And while I wouldn't trade it for the world, one of the most surprising things about parenthood is that despite making a career in food and loving to cook, meals have become just another item on the list of things that need to be taken care of. Add in the fact that I'd like to make sure that we're practicing healthy eating habits and some days I just want to throw in the towel and call for pizza delivery (and do!).
This experience was the start of my inspiration behind Cooking with a Full Plate and the tagline "faster cooking for healthy families". Since heading down this road, I've also started gathering stories from other parents. Parents who would like to feed their families healthy food but don't know how to cook, or might not know what healthy choices look like, or would just like to spend less time cooking and cleaning.
So like any good ex-consultant, I set out to get some data to back up these stories. Data that would help me understand "Why is healthy eating so hard for families?"
As planned, I've found that this data has been useful in helping me plan out my future content and projects (more on that below). An unexpected benefit is that it's also helped me as a parent to understand that I'm not the only one struggling with these things and I suspect it may help you too, which is why I'm writing this post and sharing my data here today.
So, why is it so hard to feed your family healthy food?
Thanks to my survey respondents, I now have a better idea on the whole of what the challenges are: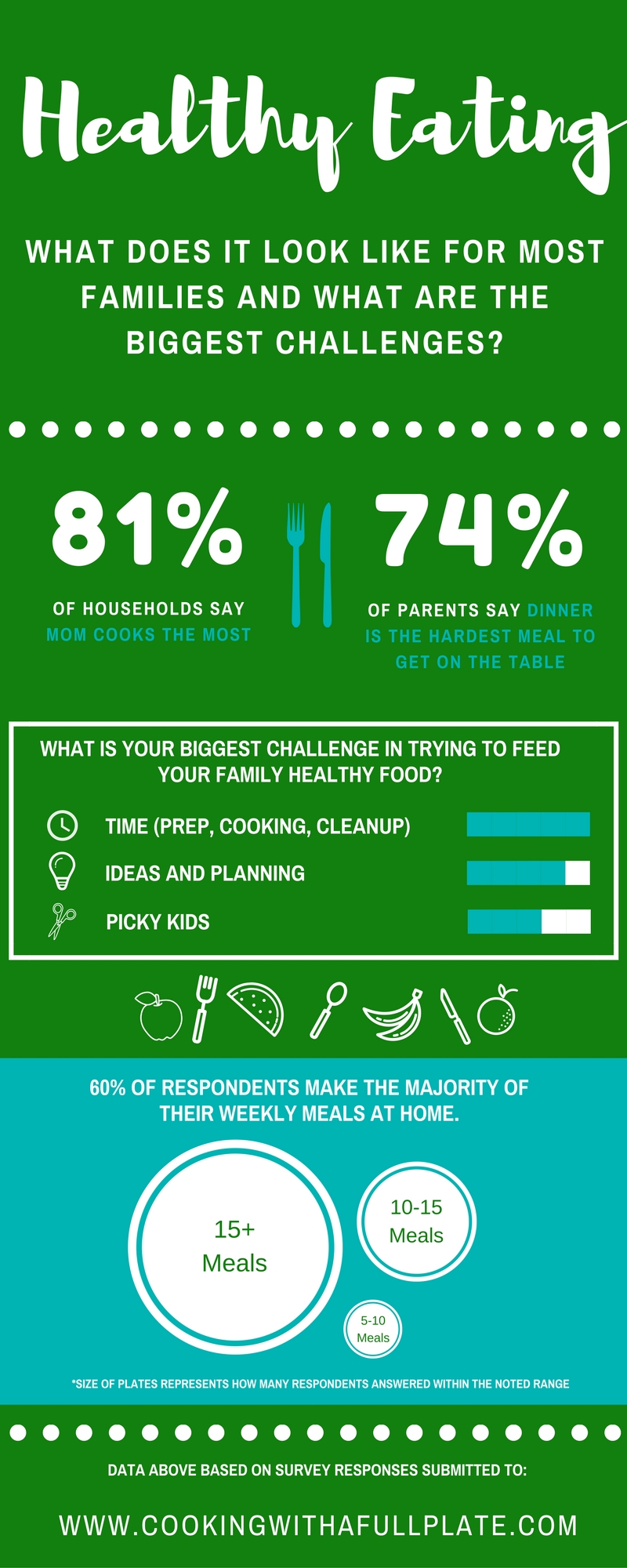 Interestingly, despite the many challenges most families are still making at least 15 of a possible 21 meals at home. Good job moms and dads!
Of course, every family is unique, so if this isn't representative of your family I'd love to hear how or why in the comments below!
How do parents describe their family's eating styles?
This was another interesting question because with the constantly shifting food trends it is sometimes hard to understand what people are really eating at home. (This is an interesting article if you want to read more about that.)
Here's what respondents had to say when asked "How would you describe your family's eating style?":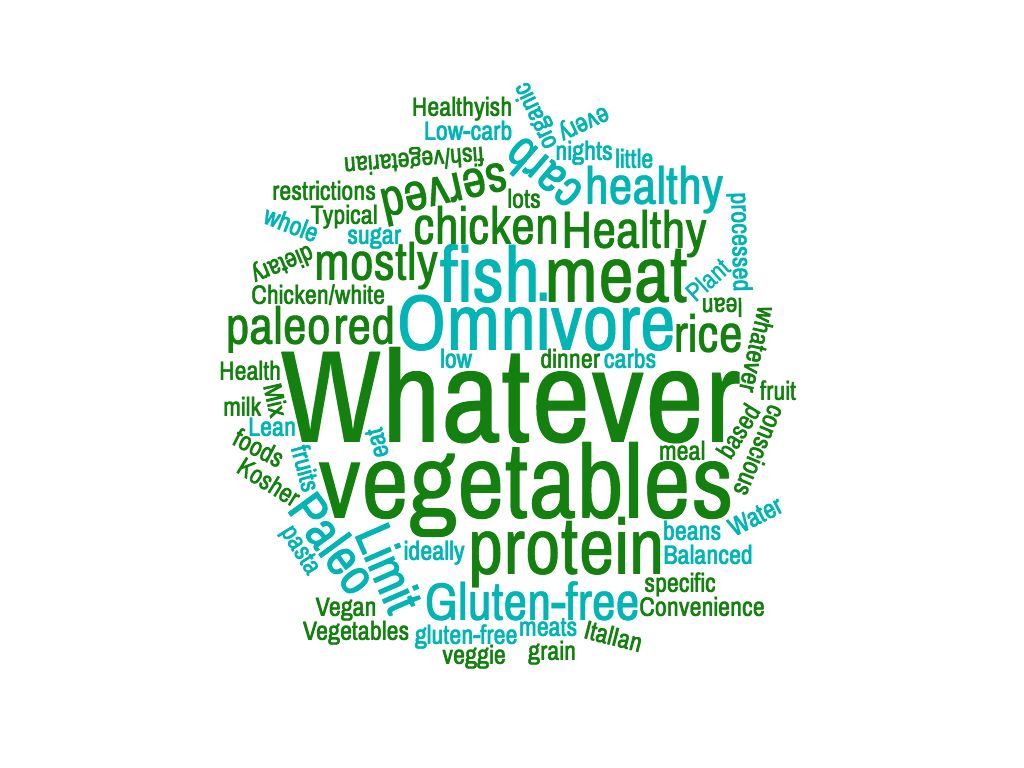 As you can see from the above word cloud (size of words indicates frequency) the top 5 responses were:
Whatever
Vegetables
Omnivore
Protein
Gluten-free
Interesting, no? How does this align with how you'd describe your family's eating style?
How can I help you?
Good question! This is a piece that I've been thinking a lot about as my primary goal with this site is to help families realistically fit healthy eating into their busy lives. That means you won't find me posting 10 layered smoothie bowls or from-scratch tamales. Those things are wonderful and delicious and there are lots of other bloggers who will write about them and show you how to make them.
When you come here I want you to think:
Easy
Healthy and Nutritious
Delicious
Realistic and Do-able
Fun
So here are some of the projects I'll be working on:
Tips for faster cooking – this is something I'm really passionate about because when you're faster and more efficient in the kitchen you can make any meal more quickly (and better). I already published my first post about "5 Tips to Chop Faster", but expect to see more ongoing here at Cooking with a Full Plate.
Make-ahead healthy recipes – blog posts on this coming soon, including everything you need to know about food safety when cooking ahead of time.
Ideas for what to keep on hand for healthy last minute dinners -many of you are looking for veggie heavy, lean protein options (with a dash of Paleo and gluten-free added in). I'll be coming up with a list of dinners you could make any night by having a few key things on hand.
Healthy, quick meal eBook – an extension of the idea above, I'll be writing a full cookbook – complete with shopping list and recipes. The meals will be quick, healthy, and easy to make any night so you'll never be forced to eat takeout again! My goal is to release this by the end of September (feel free to keep me accountable!).
Is there something else you'd like to see here or some other way I can help? You know the drill. Let me know in the comments below.
I look forward to connecting with you and sharing more soon!