School is starting. Work is busy. The kids want your attention. You can't handle one more thing.
I hear these problems all the time when talking to parents and I struggle with them myself on the regular. When there's too much to do cooking healthy food is one of the first things to fall to the back burner. It doesn't take much to see that time is one of the biggest factors holding people back from eating at home more.
The thing is that planning, shopping for, and cooking food takes time. If you have to do all of that nightly before you want to eat it takes even longer. The single most effective way to cut down on your cooking and cleaning time is to consolidate your efforts. You can't in fact make water boil or grill meat faster, but you can do all your shopping, chop many onions, and clean up the whole mess just one time if you use one of the make-ahead meal strategies outlined below.

Why Make-Ahead?
So if there are too many things to do already, why in the world would you take on making meals ahead of time?
Make-ahead meals are especially ideal for busy families because:
Cooking in bulk reduces the common denominators of all meals like prep and cleanup
Ensures that you have healthy food readily available at any time
Takes away the need to "figure out what to make" which sometimes takes longer than the cooking itself
What Make-Ahead Cooking Style is Right for You?
First, you'll need to decide whether you want to be a "Meal Prep Guru" or a "Make More Maven". Choosing the style that works best for you is going to be key to making this a sustainable and enjoyable approach. See below for the details on what these things mean:
Meal Prep Guru
Meal prep is a concept that's taken off in recent years, especially amongst fitness personalities. This may be one of my favorite fitness photos on the internet: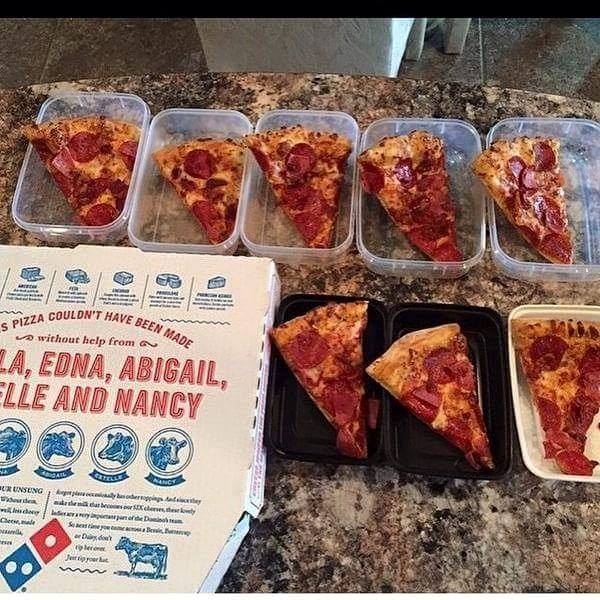 I've seen this one all over the internet, so I'm having trouble citing the original creator, but here's where I found it. The comments are pretty funny if you feel like losing some time
Plenty of parent focused bloggers have also taken on this technique which focuses on:
Preparing meals ahead of time, usually in one large prep day
Packaging them up in desired serving sizes for use throughout the week
Eating meals that were prepared ahead of time with little to no cooking or clean-up necessary on a daily basis
The pros:
You get all of your cooking and cleaning done at once!
No deciding throughout the week
The cons:
You'll need a good chunk of time for prep day (I've heard people say it takes anywhere between 1.5-5 hours depending)
The cooking and clean-up on prep day can be a lot
Less experienced cooks may take even longer because coordination and fast chopping are key
Here are some great ready-to-go resources for aspiring Meal Prep Gurus:
Make More Maven
The characteristics of the "make more" approach are to use already appointed cooking times to make extra food (aka leftovers) that you can either store in the fridge or freezer for future meals. It's really as simple as that.
The pros:
There's no additional "cooking session" because you're just cooking more when you'd otherwise be making food
Future clean-up is minimized because you'll package up the leftovers to heat and eat
No in the moment decisions to make as you'll create a back stock of options, especially if you to the freezer route (hello burritos you made last month!)
You can just cook extra of one part of the meal you're making (e.g. browned meat for tacos) and freeze that so you have a neutral base for recipes in the future
The cons:
Cooking and clean-up can take a little longer than single night cooking due to the extra volume of food
Not all food keeps well, so you need to know how to decide what will (see below)
And here are some resources for the Make More Mavens. While there are less specific plans here than above, there are tons of good tidbits in these articles including recipes and what to freeze:
How to Successfully Prepare and Store Make-Ahead Meals
Choosing Make Ahead Recipes and How You'll Store Them
The single most important decision you'll make when taking the make-ahead route is in choosing the right recipe. The reason for this is that some recipes keep better than others and it would be a shame to be all kinds of time cooking ahead or making leftovers only to find out that they don't taste as good the second time around.
In order to choose the right recipe, first you'll need to decide how you'll want to store your final product. As I see it, you have two options here (get ready, this is complex 😉 ):
Refrigerator:

Storage time is short, my general guideline is 3-5 days depending on the item
Rarely impacts final textures and flavors of your food, so there is more flexibility in what you eat and save
Faster to heat up when you're ready to eat it

Freezer:

Storage time is long, generally up to 1 year depending on the item
May impact final textures and flavors of food, so choosing the right recipes is key
Remembering to defrost as needed will be key to enjoying the convenience of these meals
I know what you're thinking: "That seemed to simple. Why is that even a decision that has to be made?"
The deal is that how you plan to store your final product is one of the key determining factors in what recipes will work and keep well. Here are some general guidelines:
Fridge: baked goods, hearty salads (kale or cabbage), porridge, soups and stews, cooked meats, casseroles, really most things except time and temperature sensitive ones like cooked souffles or delicate fish
Freezer: baked goods, porridge, soups and stews, cooked meats, casseroles
Freezing in particular can be tricky because of it's potential impacts on both texture and flavor. Here are some things that I never freeze:
Cream-based sauces as well as some dairy products like sour cream and yogurt don't freeze well as they're prone to separation
Super garlicky items
Thickened sauces
Super-watery fruits and vegetables like lettuce, celery, and watermelon
Cooked potatoes
Some Recipes to Get You Started
Ready to dive in and get cooking? In addition to the link you'll find all throughout this article, here are some great tried and true Make-Ahead and Freezer Friendly recipes:
Package them Up Correctly
After doing all that work to find the right recipes and cook them ahead of time, you want to give them the best chance of keeping well, right? This is especially important when it comes to freezer storage because you're likely keeping them in there longer and the colder temperature will have more affect on improperly packaged food.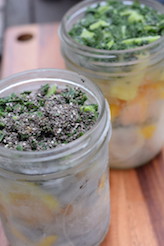 Mason jars are a great storage option! Especially for something like smoothie ingredients.
Here are some of the basics:
Chill first: Putting warm food in the freezer is a recipe for iciness. Cool it down before packaging it up.
Package tightly: Ziploc bags are a great tool to use here (and you don't have to worry as much about the plastic if you cool the food down first) but Mason jars and storage containers can work well too. This is my favorite technique (check out the picture on top).
Label clearly: I can't count the number of times I've thought to myself "what the heck is this" while pulling out some icy concoction from the freezer. Learn from my mistakes. Label your packages clearly ideally with the item name, date it was made, and reheating instructions so the family can help themselves to tasty food.
Store well: The items in the front of the freezer (and the door) get the most "abuse" from changing temperatures, which I learned from breastmilk storage. Make sure you keep you frozen foods nice and deep in the freezer without too much overcrowding so that they'll stay fresh and no freezer burnt.
I know from talking to many parents that food safety and food storage are some of the main concerns in making food ahead of time.
That's why I've created a handy two-page guide on "Food Safety for Parents" that you can get for free in your inbox just by signing up below. It covers everything from safe cooking temperatures to storage and is an easy reference guide for all your future cooking, lunch packing, and party throwing.
Also, come back over the next few weeks for more details on make-ahead and freezer options for breakfast, lunch, and dinner. I'll be testing and sharing recipes including diy freezer oatmeal cups, roasted veggie burritos, and turkey zuchinni meatballs. Do you have any favorites? Please share in the comments below!