You bought an Instant Pot, you've read the tips, and now you're finally ready to put it to use. Great!
In hopes of convincing you it isn't as complicated as it might seem, I wanted to show you today one of my favorite uses for my Instant Pot. Cooking soaked brown rice in big batches to use throughout the week.
First…
Why soak brown rice?
You're probably heard the buzz about to grain or not to grain lately. If you haven't, what rock are you living under? Can I join you?
But seriously, grains are a hot topic. Depending on who you listen to, you may or may not be eating them. Since I'm a fan of straight-forward, no-nonsense nutrition, I do in fact eat grains. My goal is to always try to eat them mostly whole, in their real-unprocessed form. Think brown rice vs. cake made of brown rice flour or wheat berries vs. wheat bread.
I won't go into all of the details because other folks have done that better than I can, but because we eat lots of whole grains I like to make sure that they're as nutritious and digestible as possible.
Grains (and beans, nuts, and seeds) all contain phytic acid which is a natural protective agent that is present in the bran and hull. It's part of their survival in the wild – keeping them from sprouting before the conditions are right. Unfortunately it "also interferes with the absorption of zinc, magnesium, iron, and calcium, and it inhibits enzyme function" (these wise words come from Amy Chaplin in her fantastic book At Home in the Whole Food Kitchen).
Soaking whole grains to remove phytic acid
Here's where the soaking comes in. We want to deactivate that phytic acid and soaking grains can actually help to do this. I approach it really simply (because hello too many other things to do!):
The night before you want to cook a grain, measure your desired amount in a large bowl and fill with enough water to cover by an inch or two.
For extra credit, you can add a Tbsp of acidic liquid at this point to help even more. I prefer apple cider vinegar.
Allow it to soak 8-24 hours until you're ready to cook.
Before cooking, drain off the soaking water (that's where the phytic acid is) and give them a good rinse if you want to be really thorough.
Proceed with cooking.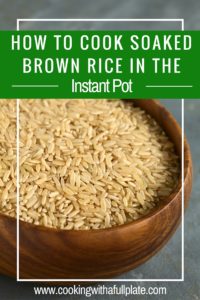 Cook Soaked Brown Rice in the Instant Pot
Cooking most anything in the Instant Pot is easy once you know how to do it and rice is no exception to that rule. Soaked brown rice is only slightly trickier because it has absorbed some water through the cooking process, so we'll need to make a few tiny tweaks to the standard brown rice recipe.
After some serious trial and error, here's what I've determined:
Soaked brown rice should be cooked for 23 minutes in the Instant Pot in a 1:1 ratio (rice:water)
Pretty simple, right? I promise it is.
Not convinced? Want to see it in action? I've made this video to help you out.