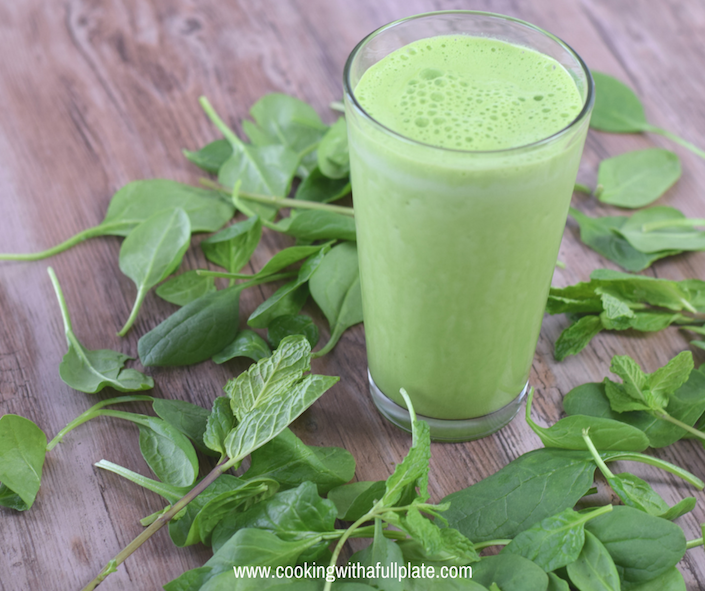 Remember when St. Patrick's Day used to be all about eating green bagels and then, later, drinking green beer? The good old days. Now I try to use it as a yearly excuse to find ways to add more greens to everything for that dose of fun and nutrition. I know, my life is thrilling. Buy luckily for you, I've been playing around with this healthy Shamrock Shake, which is not only packed with nutritious greens and is naturally sweetened, but also tastes great!
Unlike the original Shamrock Shake, I tried to stay away from any processed sugars or flavoring, so all of the tastiness comes straight from the source.
Here's a look at the original ingredients: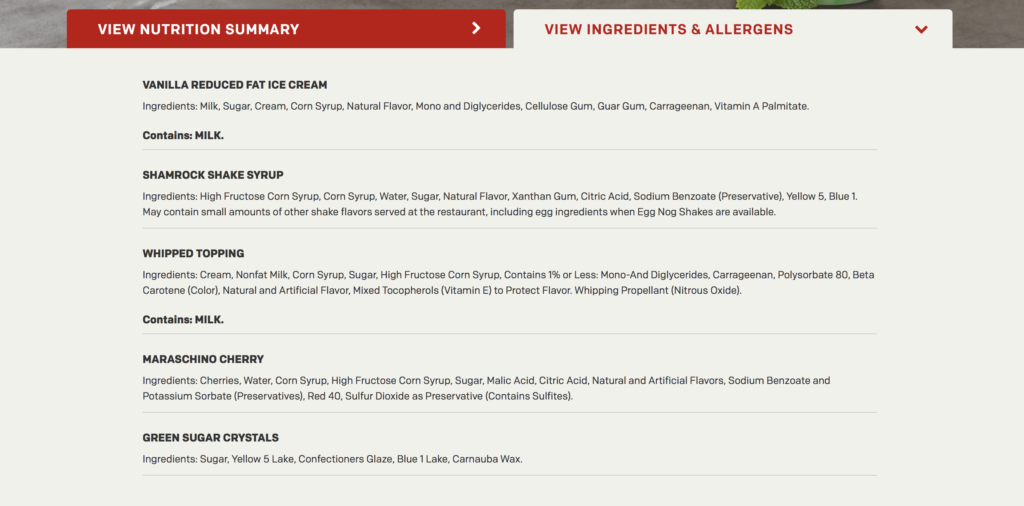 Courtesy of McDonalds.com
And take a gander at the ingredients in this version:
Ice, Plain Yogurt, Spinach, Honey, Mint, Vanilla Extract
The Benefits of Adding Spinach to a Smoothie
When it comes to adding greens to smoothies, I've tried it all. Yet, despite the sexiness of things like kale and chard, I keep coming back to spinach. Why? Because it has the most neutral flavor and still add nutrition (and in this case the desired green color) without throwing off taste.
Don't worry, though! You can still feel super proud of your green smoothie even if you only use baby spinach. Here are some reasons why:
Spinach provides twice as much iron as other greens
It's nutrient-dense providing not only iron, but also vitamin K, vitamin C, folic acid (great for pregnancy!), and carotenes
This green is "one of the richest dietary sources of lutein making it an especially important food for promoting healthy eyesight and preventing macular degeneration and cataracts" (p 231)
All info above comes from The Encyclopedia of Healing Foods by Michael Murray, N.D. which is a personal favorite for nutrition information.
Making Your Healthy Shamrock Shake
Alright, enough justifying of why you should drink this! I promise you won't need any justification after you eat it.

Plus, it's super easy to make. Just watch:
And here are the details of how to make it:
Ingredients
1 cup ice
1/2 cup plain yogurt (nonfat, low fat, or full fat is fine)
1 Tbsp honey
1 large handful spinach
Mint leaves, removed from about 6 stems of mint (about 1/4 cup?)
1 tsp vanilla extract
Instructions
Add all ingredients to blender and blend until smooth. You may need to add some water to make it smooth, just be sure to add a little at a time to add as little as possible.
http://cookingwithafullplate.com/healthy-shamrock-shake/
What green things will you be eating this St. Patrick's Day? You can be honest if it's still green beer 😉