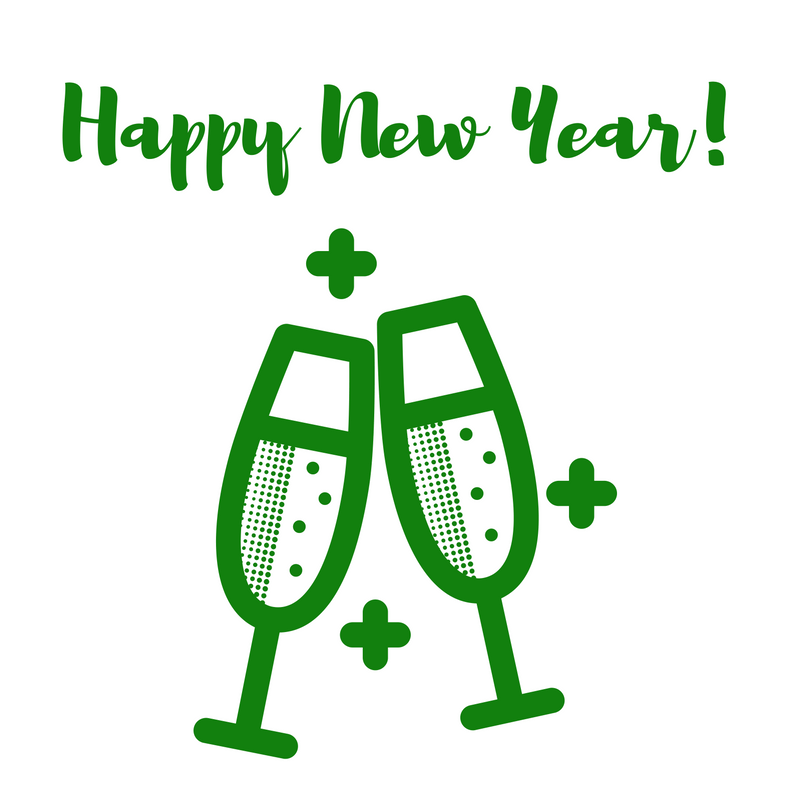 What are you committing to in 2017? Eating healthier? Exercising more? Being more kind? Whatever it is, I suggest that you keep it simple in the new year.
So many people making big resolutions that they keep for a couple of weeks and the "fall off the wagon". Heck, I was one of them for years and it rarely got me anywhere.  A spin instructor I used to be devoted to once explained the new year's phenomenon with one simple anecdote. She said that the busiest times of year are from 1/1 through the Super Bowl when people fall off the wagon hard and then give up completely.
I don't know about you, but I don't want that to be me this year! Which brings us back to keeping it simple.
How Does this Apply to Healthy Living?
At the end of the day, healthy living isn't an all or nothing proposition. Just because you don't eat a vegetable for a day or two or ten or hit the gym for a couple days a week or a month doesn't mean that you're done with THAT lifestyle. In fact, my saving grace in finding my health over the last 7+ years has been giving up the idea of perfection and leaning into the idea of laying down healthy habits that I ALWAYS COME BACK TO (even when it's sometimes been longer than other times).
As a parent I understand even more now that this balance is the single most important factor in:
Feeding my family healthy food

Losing the baby weight

Having energy to chase a two year old

Managing the challenges of working and parenting
My resolution this year as it relates to my health? Keep embracing this attitude. Even when I want to quickly lose the 40+ pounds that I'll inevitably gain this pregnancy. Remember that slow and steady and most of all CONSISTENT wins the healthy race. It's what you do day after day that counts, not the occasional indulgences or the 3 weeks that you ate super clean before going back to your old ways.
Simple Ways to Keep Your Healthy Eating Resolutions
So you want to eat healthier in the new year? Or maybe you want to help your kids or whole family get on the clean eating bandwagon?
Here are some ways that you can keep it simple in the new year:
Find 10 great healthy recipes you love, save them in a file, and rotate them for dinners

Discover 3 new sites with healthy recipes to get new ideas to sprinkle in with your staples

Pick 1 new vegetable for the family to try each week

Develop a daily smoothie habit and throw in some greens while you make a big batch for the whole family

Cook up 1 whole grain at the beginning of each week and use that to make bowls or stir-frys throughout the week (cooked grains will keep in the fridge for 4-6 days)

Simply cook 1 or 2 vegetables at the beginning of the week that you can quickly doctor for dinner (more on this coming soon)

Plan more meals and eat out less – what you make at home is almost always healthier (and cheaper) than what you get in a restaurant!
One Simple and Healthy Recipe you Can Add to your Repertoire
And just to start the year off right, I want to share with you a new slow cooker recipe I made the other day. I'm not a huge fan of tons of kitchen equipment, but I truly believe that a slow cooker (or a slow cooker / pressure cooker combo like I have) is worth the price of both purchase and space for storage because it lets you become your own "personal chef".
When I work with clients, the number one thing they want is to get dinner on the table easily and have it ready when they are. Don't have the money to invest in hiring someone? Do it yourself. With a little prep and planning, you too can have dinner ready when you are (and as you get really good you can have the kitchen cleaned as well. Here's a glimpse at how I schedule this to make it a reality:
The night before, when you're making another meal, chop up all the ingredients you'll need to make your slow cooker meal (cook once and eat twice – score!)

In the morning, throw all the ingredients in the slow cooker according to the instructions

When you get home in the evening, check on the progress and add anything as needed

At dinner time serve warm food

Do a quick cleanup of the slow cooker (all the more reason to get a dishwasher friendly one) and you're done!

Quick tip: This is also why I love to pick "all in one meals" like this one because it has your veggies, whole grain, and protein all together, meaning that I really don't have to make or serve anything extra to go with it
Cajun Shrimp and Brown Rice Slow-Cooker Meal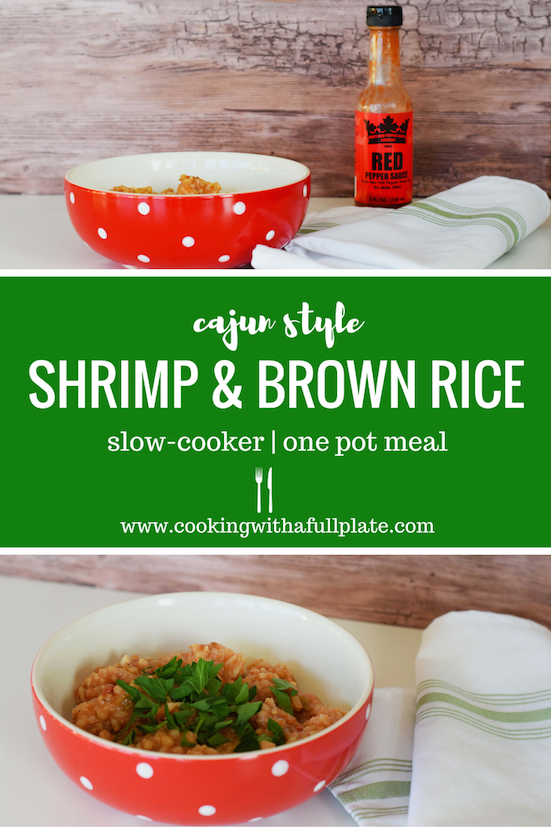 Cajun Shrimp and Brown Rice Slow Cooker Meal
Ingredients
1 Tbsp olive oil
1 onion, chopped
1 green bell pepper, chopped
2 stalks celery, chopped
2 garlic cloves, chopped
1.5 cups brown rice (preferably short grain)
1 28-ounce can diced tomatoes
2 cups chicken broth
2 cups water
1 tablespoon Cajun seasoning
1 pound raw, shelled and deveined shrimp
Salt and pepper to taste
Hot-pepper sauce (optional)
Parsley for garnish (optional)
Instructions
If you have a slow cooker that can saute, heat oil in the pot, otherwise heat oil in a separate pan. Add onion, green bell pepper, and celery about 5 minutes until softened. If needed, return to the pot of the slow cooker.
Add in brown rice, tomatoes with juice, broth, water, and Cajun seasoning. Set to low for 5 hours or high for about 3. If slow cooker allows, set to hold a "Warm" after it's done cooking in the event that you aren't home when the dish is done.
1 hour before serving, add in the frozen shrimp and stir to combine. Add a little more water or broth as needed/desired when you do this. If your slow cooker has been on warm, reset it to cook for another hour. Ensure that the shrimp cooked through before serving by making sure that it's fully opaque and pink and no longer translucent.
Season with salt and pepper to taste.
Notes
Don't have a slow cooker? You can do this in a pot by cooking the rice mixture (up through adding the shrimp) for about 45 minutes before stirring in the shrimp and cooking over low heat until the shrimp is cooked through.
Have leftovers? This will keep in the fridge and reheat well for up to 3 days.
http://cookingwithafullplate.com/keep-it-simple-new-year/