Pssst…swing over here for a minute. I have something important to tell you. I've been holding out on you. After all, this Buffalo Chicken Chili recipe has been a family favorite for over a year, is stupid easy, and keeps well for leftovers.
In fact, it's so easy that I kind of just forgot to share it. Ooops!
But with the cold turning up the volume across the country, Super Bowl coming, and the Instant Pot continuing it's meteoric rise in popularity, I think it's time to share.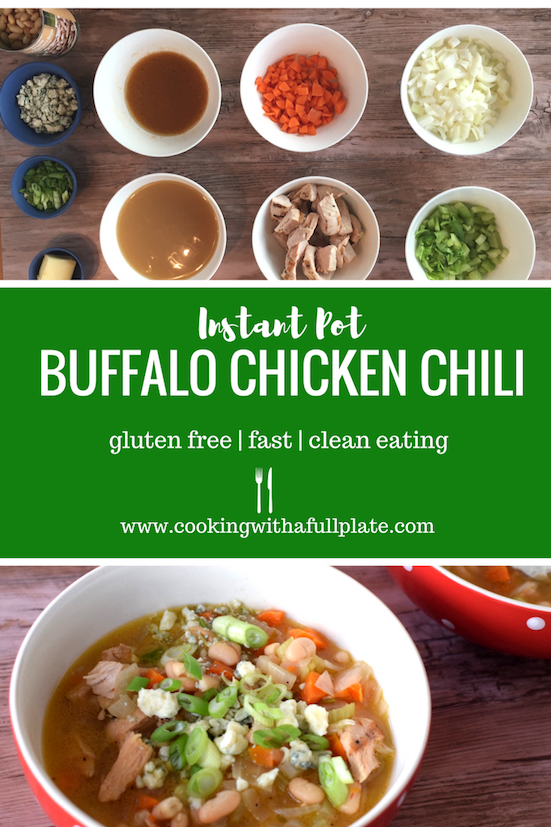 Don't have an Instant Pot? This could be easily be made on the stove top or in a slow-cooker as well. Check out the tips for this after the main recipe.
Buffalo Chicken Chili Recipe
Ingredients
1 Tbsp butter
1 cup onions, diced (about 1 large)
1 cup carrots, diced (about 3 medium)
1 cup celery, diced (about 3 medium)
2 cups shredded rotisserie chicken
2 can white beans or cannelini beans, drained
1 cup buffalo sauce (plus more to taste)
4 cup chicken broth
Toppings: blue cheese & sliced scallions or a dollop of ranch dressing
Instructions
Set the Instant Pot to "Sauté" mode. Add butter and wait until melted.
Add in onions and sauté about 3 minutes, stirring occasionally. Add in carrots and cook 2 more minutes. Add in celery and cook 2 more minutes all together.
Add in chicken, white beans, buffalo sauce, and broth. Cancel "Sauté" function.
Place lid on Instant Pot and set valve to "Sealing". Hit "Manual" and adjust time to 15 minutes.
When the timer beeps, do a quick-release of pressure by carefully moving the valve to "Venting" (you can also let it release naturally if you prefer).
Top with desired toppings to serve.
http://cookingwithafullplate.com/buffalo-chicken-chili/
A Few Tips and Modifications
Making this on the stove top? Sauté the ingredients in a large stock pot, add remaining ingredients, bring to a boil and then allow to simmer for about 45 minutes.
Making this in a slow cooker? Sauté the onions, carrots and celery then add to the slow cooker with the remaining ingredients (except toppings). Set to cook on low for 5 hours or on high for 3 hours. You're really just bringing the flavors together since everything is already cooked.
Want to make it paleo? Double the chicken and leave out the beans. I use Tessamae's wing sauce which is paleo friendly along with most of their other products. Of course, if you're avoiding dairy switch out the butter and leave off the blue cheese.
Want to see it in action? Check out the prep video here:
Want a printable checklist version of this recipe?