Have I convinced you yet that a spiralizer is a fun tool that can help the whole family eat more veggies?
If so, I am now taking it on myself to find more ways to help you use that baby. After all, if you don't actually make any veggie noodles with it then you're not going to eat any more veggies, right?
First of all, there are tons of awesome veggie noodle recipes out there already.  I've compiled a bunch of them just for you on this Pinterest board:
Feel free to re-pin what looks good for your and your family so that you can remember to try them out later. And let me know if you do! I'd love to hear about your spiralizing success.
Getting Your Family in on the Fun
One of the coolest things about making veggie noodles, especially using a spiralizer (though you don't have to have one and I show you here how to make them without) is watching the process of a piece of produce becoming piles of noodles.  My 2 year old loves it and I've heard many other parents say the same about kids of all ages.
Spiralizing is a great family activity that your kids can help with, maybe not with the actual spiralizing near sharp blades depending on their age, but definitely by:
Picking out the veggies to use
Watching them become noodles
Collecting the noodles and putting them in a colander or bowl
Observing as they transform into a finished dish
I mean, how can you resist these?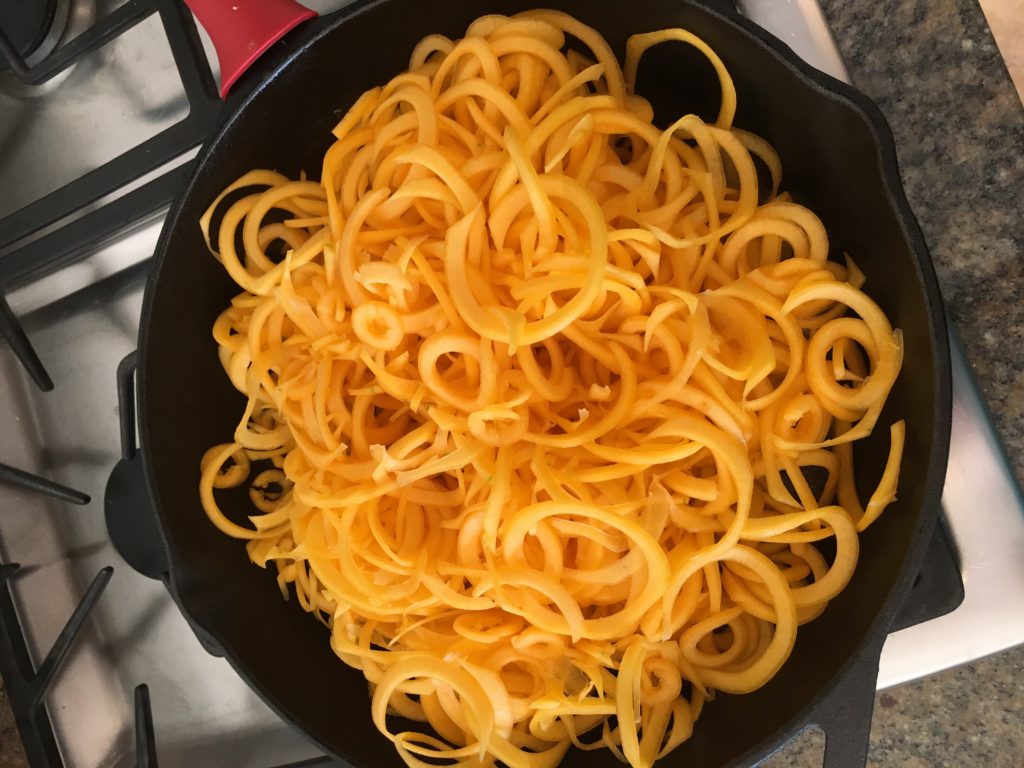 And I don't know about you, but anything that my son helps with or has a hand in is much more likely to get eaten!
Butternut Squash Mexican-Style Noodle Bowl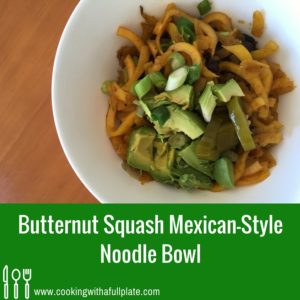 Ok, enough logistics, let's make a delicious dish that should take no more than 20 minutes!
Serves: 4 (2 adults and 2 kids)
You'll need:
Long neck of 2 butternut squash
1 Tbsp olive oil
1 Tbsp smoked paprika
1 tsp cumin
Salt and pepper
1 can black beans, drained
1 avocado, cubed
1 lime cut into wedges (optional)
2 green onions, sliced (optional)
A couple Tbsp cilantro (optional)
Pickled jalapeno slices (optional)
Equipment: spiralizer, large pan
Here's how to make it:
Remove the skin from the outside of the butternut squash by placing it on the flat bottom (where you cut it off from the round base) and running a sharp knife down the sides. (I've found this works better than a peeler)
Place it on your spiralizer (if you're using a handheld one, you may need to cut it into smaller pieces) and create the noodles in your desired shape.
Add 1 Tbsp olive oil to a large, wide pan and heat up. Then add in the butternut squash noodles.
Cook about 5 minutes until they're beginning to soften, then stir in the paprika, cumin, and salt and pepper. Continue cooking until they reach desired consistency (this will depend on your heat and desired consistency, but probably a few more minutes).
Add in black beans and stir to combine and heat through, about 1 minute.
Remove from pan and serve topped with avocado and lime juice, green onion, cilantro, and jalapeno (if using).
Do you have a spiralizer? If so, what will you be making next?