Mornings with kids are crazy. Am I right?
The amount of times I find myself talking about socks, teeth brushing, and getting dressed is, quite frankly, baffling since only one kid can even understand me at this point.
For this reason, I've determined that the only way to stay sane is to have a few healthy breakfast options, like this banana bread granola, on hand at all times. This way, I'm not adding another variable into the mix. Because while I don't remember much from math class, I'm pretty sure that more variables make things more complex. (Lord help me when I have to help with math homework. Thank goodness dad is a math wiz.)
The Nutritional Problem with Boxed Cereal
Cereal may be the most obvious quick and easy breakfast option, but while there are some solid choices out there, unfortunately most "healthy" cereal is more branding than fact.
Want all the details on label reading? You can check out my YouTube video here where I share my top 4 tips for understanding labels:
But for the sake of breakfast, let's just take a look at a "healthy" cereal label. I picked Kashi Go Lean because I'm an 80s baby and this cereal was ALL THE RAGE when I was in high school.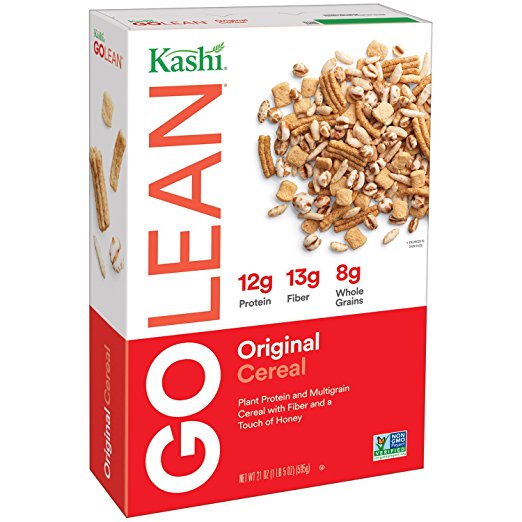 The nutrition the stats are not too bad at first blush. There aren't too many calories (hint: that could be a clue that there's lots of weird processing). It's packed with fiber. And it's high in protein to help fullness last.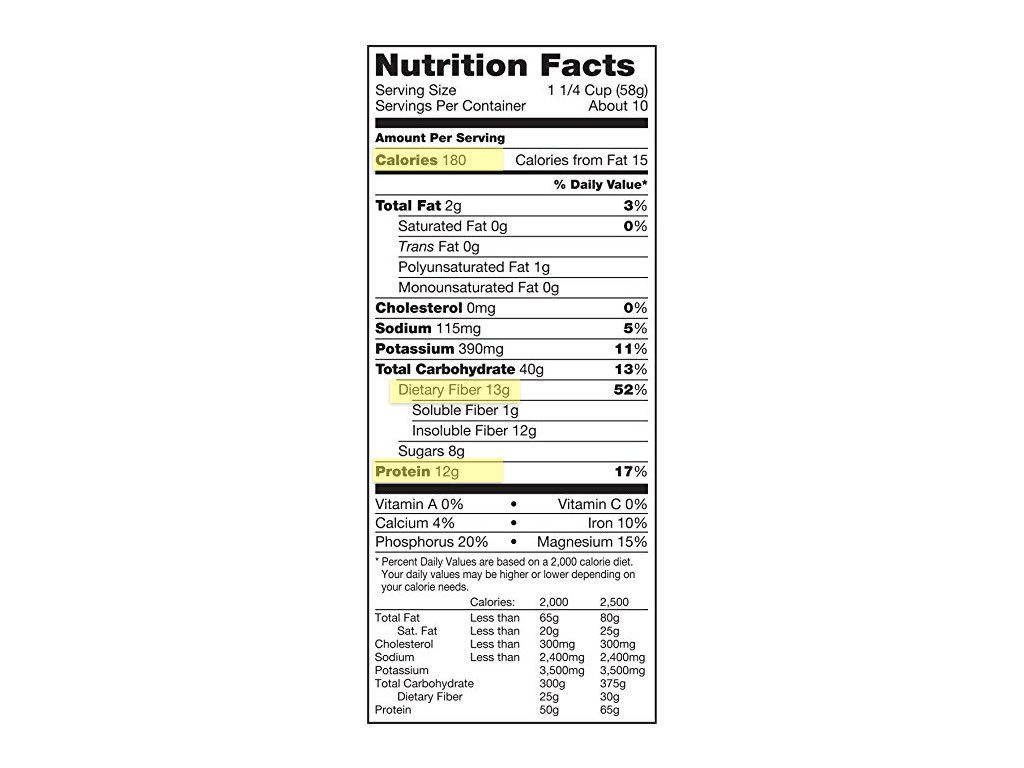 But let's take a look at those ingredients. Here's where things get dicey: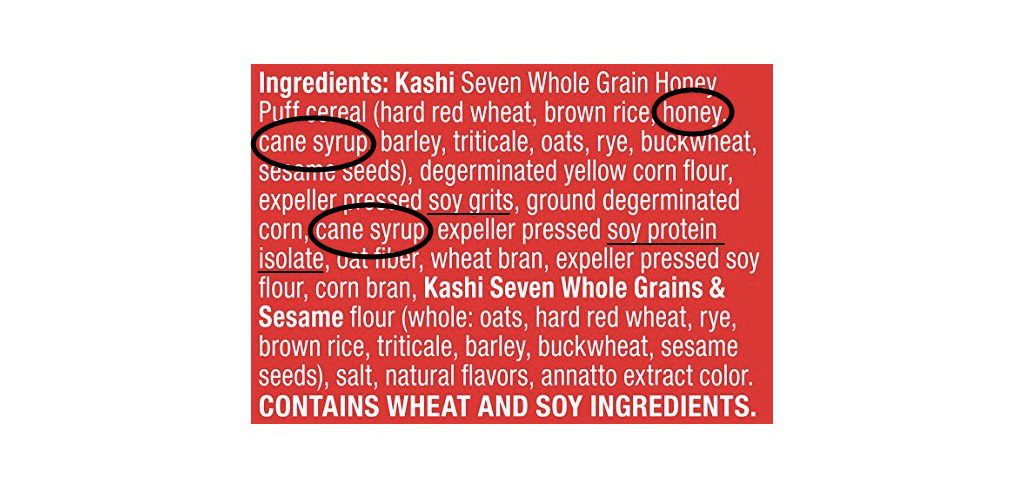 Check out that long ingredient list! It includes things like soy grits and soy protein isolate, which always leaves me thinking "What is that even?"
Some form of sugar shows up three different times on the ingredient list. That makes it look like it's not as prominent because it's harder to find wedged in there, but if you look back at the nutrition label you'll see that this packs 8 grams of sugar per serving – the equivalent of 2 tsp sugar or about 3 Hershey's Kisses
Obviously, this isn't a look at EVERY cereal, but if this "healthier" one has these faults, I'm sure you can guess what other ones look like.
Of course, this site (and my home) is an everything in moderation sort of place because real life. So if Lucky Charms are your favorite weekend breakfast, get on with your bad self. I just don't want you to operate under the false notion that just because a food company calls their cereal healthy it lives up to that name.
But then, what should you feed your family that is realistic? I'm glad you asked…
Healthy and Easy Make Ahead Breakfasts
One of my favorite things to include in weekly meal prep is one or two nutritious breakfast options that can be frozen or stored to use over weeks or months (in the case of frozen). Here are some examples of ones that we've loved:
Make this Banana Bread Granola!
But if cereal is what your family wants and you just can't imagine giving it up, granola is the big winner! Especially this Banana Bread Granola, which:
Is made without any refined sugar (unlike most store-bought versions all the sugars and sweetness come from fruit)
Uses a small amount of coconut oil
Is packed with whole grains from oats
Is gluten free if you use a gluten free brand of oats (look on the package)
Has nutrients from the walnuts and bananas
Tastes great!
Oh and did I mention it's super easy to make ahead of time so that the morning hustle doesn't get any harder? This prepared granola will keep a week or two in a sealed container, if it makes it that long.
We enjoy this over yogurt or with almond milk for breakfast or with a few chocolate chips thrown in for a snack.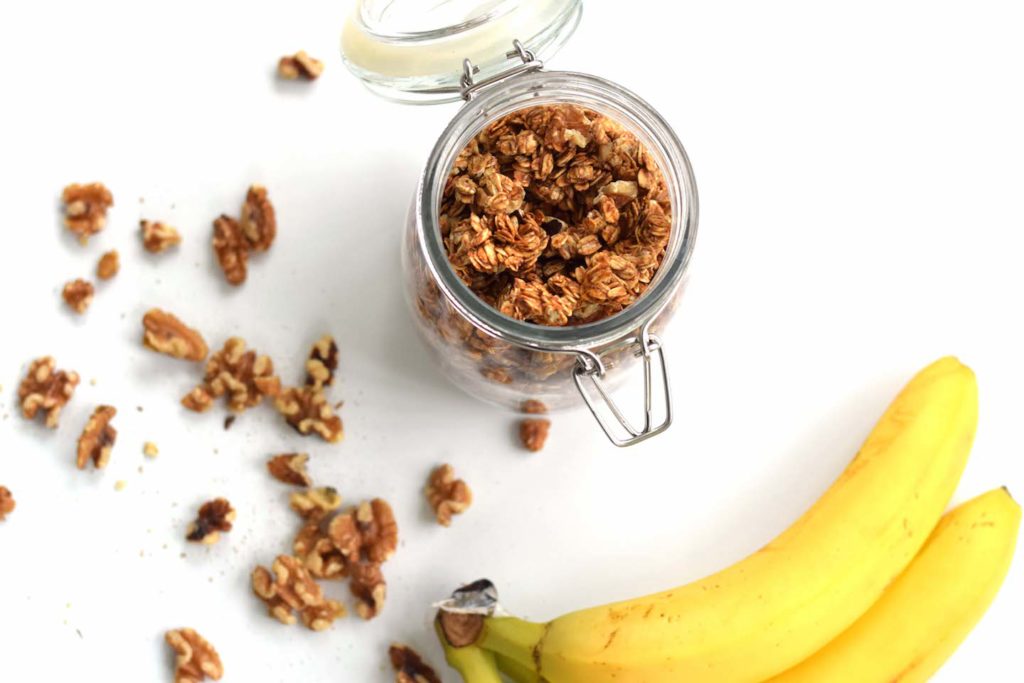 So without further ado…the Banana Bread Granola recipe:
Banana Bread Granola (Refined Sugar Free, Gluten Free, Kid Friendly)
Ingredients
3 cups rolled oats
2 ripe bananas
1 Tbsp melted coconut oil
1 1/2 tsp cinnamon
1 tsp vanilla extract
1/8 tsp salt
1/2 cup walnuts
Instructions
Preheat oven to 350 degrees F. Line a large baking sheet with parchment paper
Pour oats into a large bowl
Blend together 2 bananas, 1 Tbsp melted coconut oil, 1 1/2 tsp cinnamon, 1 tsp vanilla extract
Pour over oats and mix together well. Lay in a single layer on baking sheet and sprinkle with salt
Place in oven and bake for 15 minutes. Remove from oven, add walnuts, and stir
Bake 10 more minutes until oats are getting toasty but not burnt
Let cool before storing in a container
Notes
Store in airtight container up to 2 weeks
http://cookingwithafullplate.com/banana-bread-granola/
And just in case you want to compare, here's the nutrition for panel for one serving of this recipe (1/2 cup – it makes 6 servings total).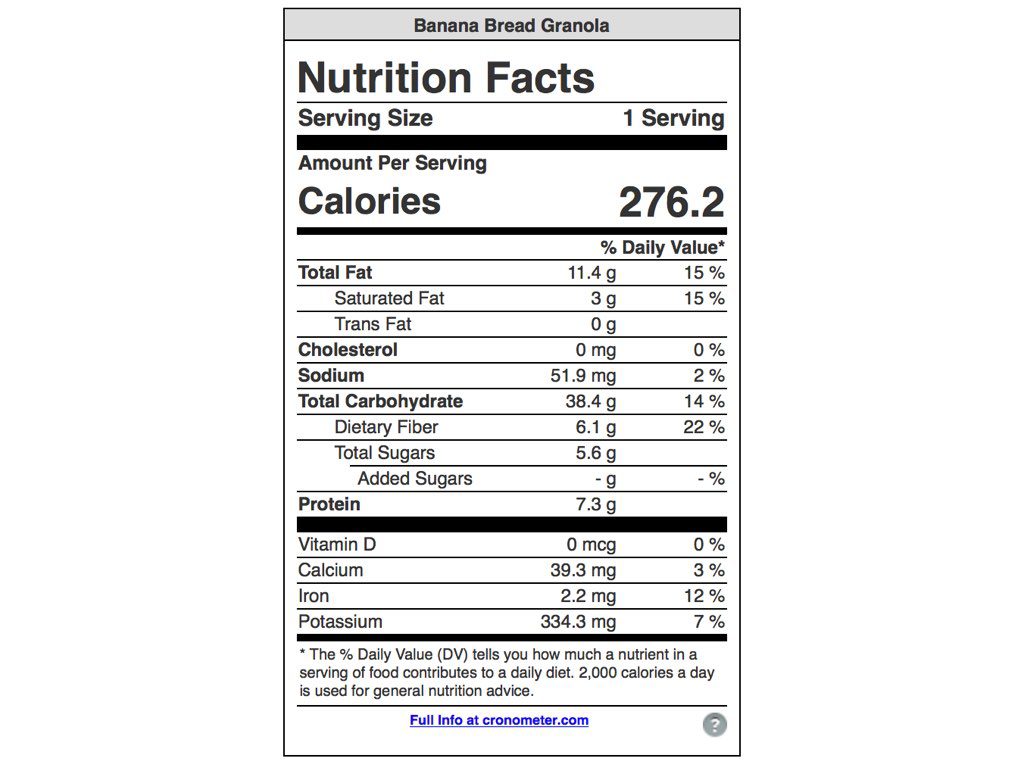 Yes, the calories are a little higher because REAL FOOD, but you can always eat a smaller portion. Also, the proof is in that short, wholesome, and unprocessed ingredient list!
Pin it!