The loves in your life are probably pretty naturally sweet, huh? They don't need any extra sugar with all those sweet hugs and kisses and cuddles! That's why when I want to serve up a treat, I try to keep it naturally sweetened, focusing on sweeteners that don't just bring sugar but pack a nutritional punch as well. These chocolate truffles are a great example!
They're also super simple to make and a great activity to share with your kids. All you'll need is a food processor and 5 ingredients. You can store them in the fridge for up to a week and in addition to being a great Valentine's Day treat they're also great pre-sports or workout fuel, an indulgent after school snack, and a sweet dessert.
The other cool thing about this recipe is that it's totally customizable once you get the hang of it. I've shared a chocolate peanut and chocolate cherry almond version below, but if you have other favorite flavors feel free to mix it up a bit.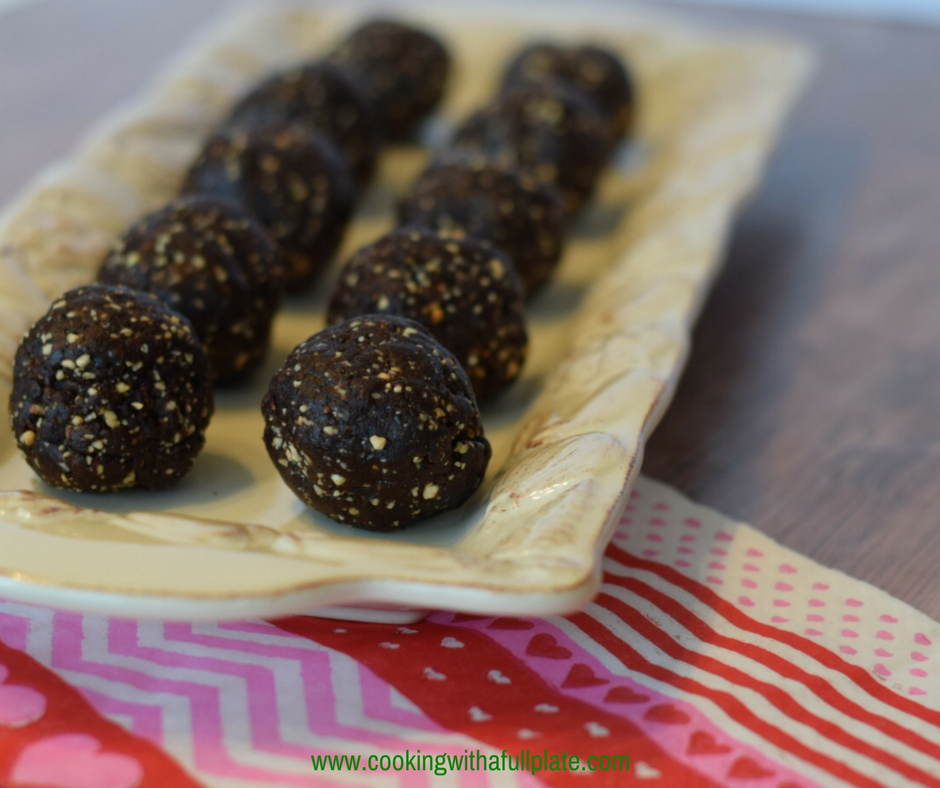 Naturally Sweet
Dates are the main sweetener in these babies and they happen to be one of the main ones I turn to for natural sweetening. Why's that? Because in addition to lots of sugary flavor, they have a nutritional profile that you'll love as well.
Check it out:
Dates grow on the date palm, which is an ancient tree and nicknamed the "Tree of Life"
They area source of easily digested carbs but thanks to the soluble fiber content their sugars are more slowly absorbed to keep blood sugar levels even
4 dates have 8 grams of fiber and are packed with 260% more potassium than oranges and 64% more potassium than bananas
They're rich in antioxidant and anti-cancer compounds
For all my fellow pregnant mamas: a study was conducted in which pregnant women consumed 6 dates per day in the last week of their pregnancy as compared to a set of women who consumed none. The women in the "date eating" group experienced higher rates of spontaneous labor (96% vs. 79%) and showed less need for induction and augmentation of labor. Check it out here.
Sources: The Encylopedia of Healing Foods by Michael Murray, N.D. and The Journal of Obstetrics and Gynecology
Ready to eat some more dates? Try this recipe for staters:

Peanut and Cherry Almond Chocolate Truffles
Naturally Sweet Chocolate Truffles

Ingredients

Chocolate Peanut:
2 cups pitted dates
1 cup peanuts
1/4 cup cocoa powder
1 tsp vanilla extract
Pinch of salt
Chocolate Cherry Almond:
1 cup dates
1 cup dried cherries
1 cup almonds
1/4 cup cocoa powder
1 tsp vanilla
Pinch of salt

Instructions

Place nuts in a food processor and pulse to a medium grind.
Add in dates (plus any other dried fruit), cocoa powder, vanilla, and salt. Process until well combined. You can test this by shaping a small truffle and checking that it "sticks" together.
When it's ready, take about 1 Tbsp of mix, squish into a ball with hands and then roll between hands until formed into a smooth, round truffle.

Notes

Refrigerate for up to a week.

If you want to really take these over the top, dip in melted chocolate and refrigerate until hardened!

http://cookingwithafullplate.com/chocolate-truffles/
Want to see the recipe in action?