Is it just me who feels like we're getting down to the wire on the holidays? I'm starting to realize that Amazon can only help me so much, especially when I'm looking for some smaller personal gifts to give for things like hostess presents. Enter this wholesome and easy homemade holiday gift…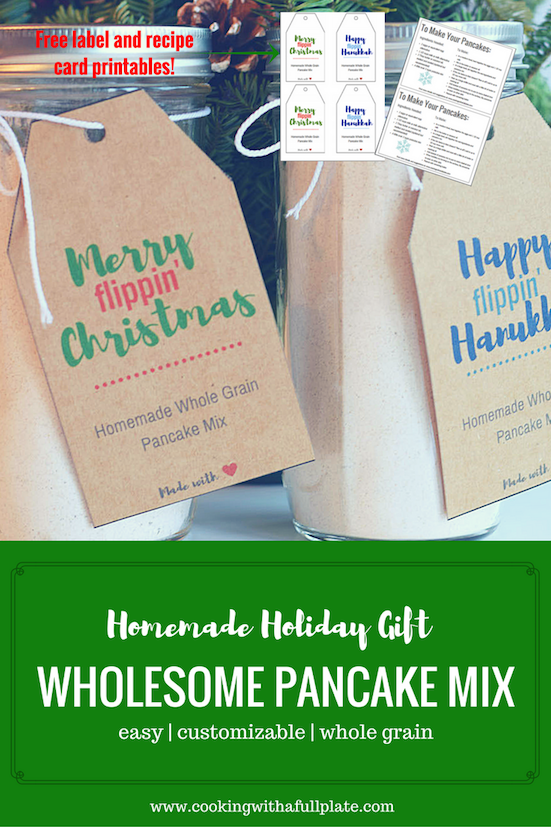 Homemade Whole Grain Pancake Mix
The beauty of this pancake mix is that it's super easy to make in big batches so you can package some up for friends and keep some in your pantry as well. I'll even share an eggnog version tomorrow that's perfect for Christmas morning festivities (because…easy and wholesome).
Oh – and I've done the packaging work for you because who has time to design labels. More on that later…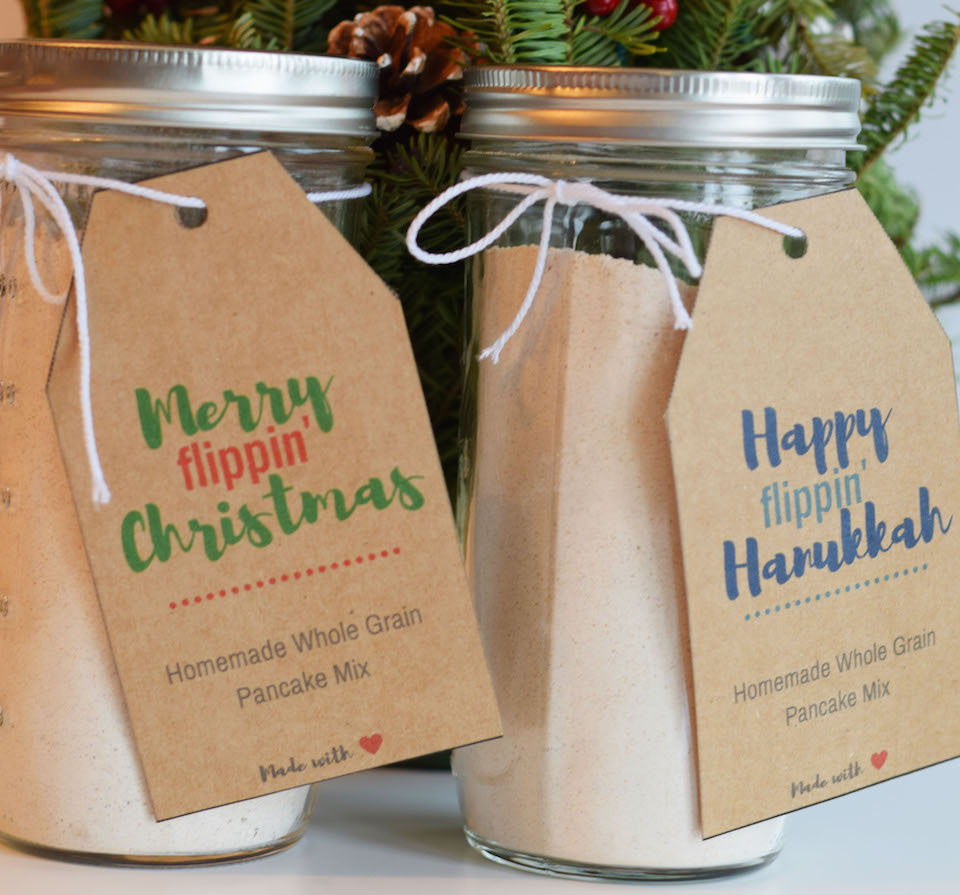 Literally all you need to do to make this "recipe" is throw these ingredients in a bowl and mix them up really well. Package them up et voila, you're ready to go.
A Wholesome (and Easy) Homemade Holiday Gift
Ingredients
2 cups whole grain flour (whole spelt, whole wheat, white whole wheat)
2 tsp baking powder
1/4 tsp salt
1 Tbsp sugar
Instructions
Mix ingredients together well in a large bowl.
If you'd like to make a big batch: double, triple, or even quadruple the recipe. Just note that for packaging "individual servings" or making the recipe 1 portion is a little over 2 cups of mix. I like to think of it as 2 heaping (a little bit of a mound on top) 1 cup scoops.
Notes
Adapted from Mark Bittman's "Everyday Pancake" recipe
http://cookingwithafullplate.com/a-wholesome-and-easy-homemade-holiday-gift/
Packaging Up Your Pancake Mix as a Gift
To give these as a gift you'll need 4 things:
A jar: I used this one but any one that will hold a little over 2 cups (for a single portion) is good
A tag: I've created a Christmas and Hanukkah version for you that you can download below. Mine is printed on kraft paper cardstock and then cut out by hand, but any paper you like will do
A piece of string or ribbon: to tie the tag on
A recipe card: So that your recipient knows how to make pancakes from the mix you gave them. This is also included in the download below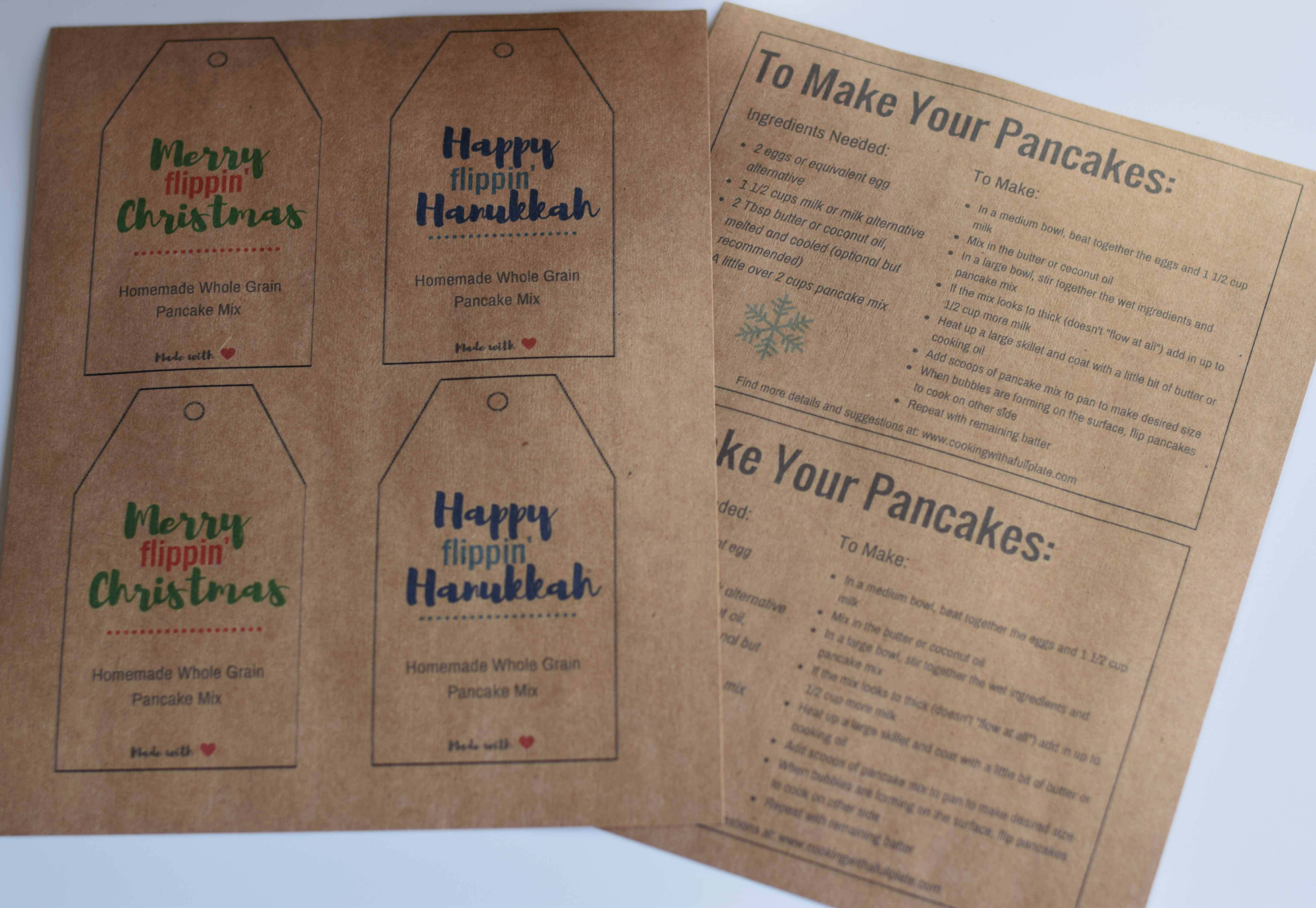 Recipe Variations and Accommodating Special Diets and Preferences
One of the other great things about this recipe is that it's pretty forgiving and variable based on the needs of the recipient. Some examples:
Not into "whole grains"? You can easily use white, all-purpose flour in place of the whole grain flours
Gluten-free? I suspect (though I haven't tested) that you could easily substitute a gluten-free oat flour or all purpose gluten-free flour blend in equal quantities for the whole grain flour
Vegan? Both the eggs and milk can be substituted with vegan alternatives. I had success using a chia egg (made the equivalent of 2 eggs) and coconut milk
Like to spice up their pancakes? Add up to 1/2 cup mix-ins like frozen blueberries, chopped nuts, or chocolate chips
What homemade gifts are you making and giving out this year?