I know from coaxing my own family to try new things that changes to the Thanksgiving meal can be a hard sell. After all, this is the way we've ALWAYS made the sweet potato casserole and green beans (nevermind that the ingredients are all canned and no one likes them that much anyways).
So when I set out to make some "adjustments" to our holiday menu, I went about it gently, basically taking on one dish at a time and just saying "this is what I'm making". Sometimes, the owner of the original dish still brought theirs and sometimes they happily bowed out of their cooking responsibilities. Either way, it was an easy no-pressure way for me to introduce something new.
Wanna know something funny, though? Most of my suggested dishes have now become recurring ones and a few are even "ours" – the ones we make and people look for year after year.
I can't take credit for creating these recipes but that's ok because they're delicious and if you're seeking to spice things up a bit this year, I know that they could be a hit with your family too!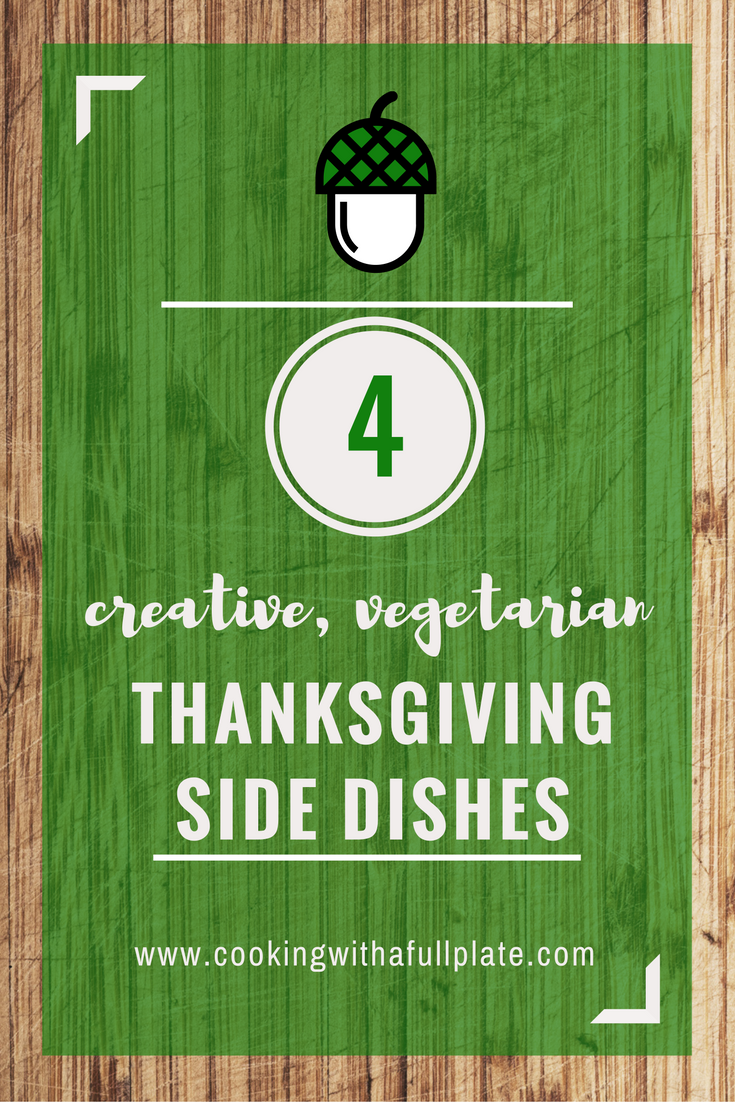 1) Heidi Swanson's Golden Crusted Brussels Sprouts:
These are hands-down some of the best sprouts I've ever tried. My family was skeptical when I mentioned serving brussels sprouts for Thanksgiving, picturing the mushy, cabbagey variety. After quickly polishing off the first tray I made, this recipe has now earned a coveted spot in our Fall rotation.
Hint: her pan searing technique is key to making these crispy and golden and outstanding.
Make-Ahead Tip:
You can cut the sprouts and grate the cheese up to a couple days ahead of time and then just store them in the fridge. This recipe does need to be made pretty close to serving time, but the good news is that it uses the stove rather than the oven which is always full warming the Thanksgiving feast.
2) Amy Chaplin's Roasted Acorn and Delicata Squash Salad:
Amy Chaplin is a kitchen goddess who really knows her stuff when it comes to veggies and it shows in this salad recipe. The balance of sweetness from the roasted squash, bitterness from the greens, and sharpness from the cheese is a perfect accompaniment to some of the typically heavy Thanksgiving foods.
Make-Ahead Tip:
The squash, wheat berries, dressing, and pumpkin seeds can all be made up to 3 days ahead of time and stored separately in the fridge (pumpkin seeds can stay on the counter). That way, you can easily throw everything together right before serving.
3) Jose Garces' Sweet Potato Gratin with Chile Spiced Pecans:
While this isn't the bourbon and butter laden creation of my husband's childhood, this one has been a hit with my family for 5+ years now thanks to its clever mix of spicy, salty, and sweet elements.
Make-Ahead Tip:
Make the sweet potatoes and the pecans up to 3 days ahead of time. Day of, place everything in the casserole dish as instructed and heat it up in the oven.
4) Cranberry Relish:
Even if I'll never convince my husband that any cranberry recipe is better than his beloved canned, gelatinized version, it doesn't take much to convince everyone else that this fresh tasting stuff is a better alternative. I love that this is super easy to make, is super tart if you cut back on the sugar, and can easily be made ahead of time.
Make-Ahead Tip:
This can be fully made and stored in the fridge up to 3 days ahead of time.
Any favorites that I missed? What new dishes are you trying at Thanksgiving this year?