Oatmeal might be the easiest thing in the world to make once you know how to do it.  Rolled oats cook up quickly and make for a nutritious, comforting, fiber-filled breakfast, especially on crisp Fall and Winter mornings.
Steel-cut oats, on the other hand, are a bit more labor intensive and take time that most parents can't find in the morning. That's why they're the perfect food to include in your make-ahead cooking plans and store in the freezer for a nourishing meal any morning.  (Pssst…this technique also makes them super easy to take along to work and heat up in the microwave, so this isn't just for the kiddos.)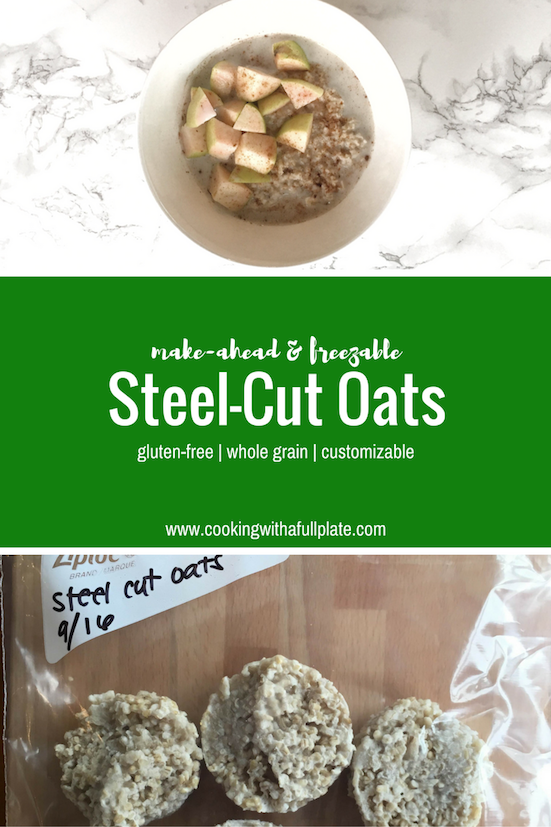 Why Eat Steel-Cut Oats?
So if instant and rolled oatmeal is so easy to make, why bother with steel-cut oats at all?  Well, sit back, because here's a quick lesson for you.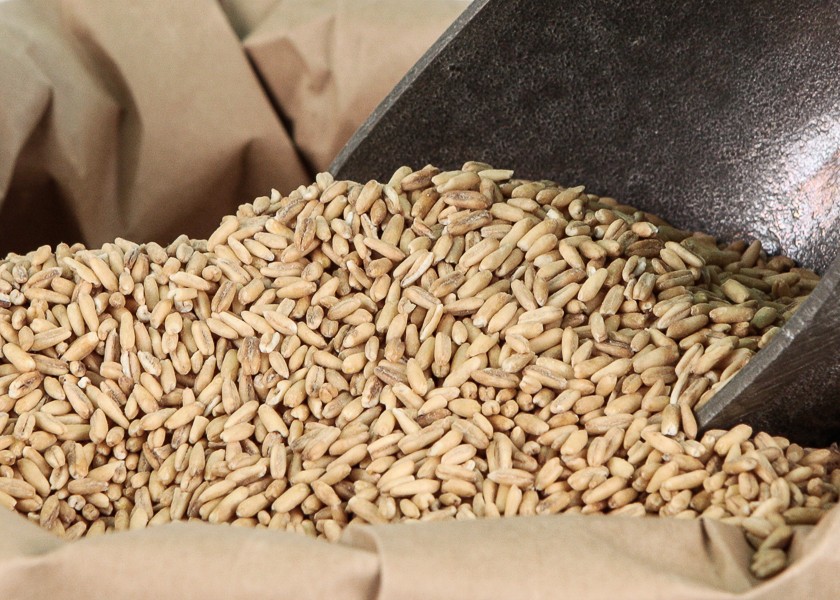 Source: Honeyville.com
These are called oat groats and cook up a lot like rice or wheat berries. This is oats in their most whole, real, unprocessed form – the way they grow in nature.
You can typically buy oats at the store in 3 different forms (groats are harder to find). Each of them has been processed a bit differently:
Steel cut oats are oat groats that have been chopped up into little pieces to give them a little more of a porridge-like consistency and help them cook faster.
Rolled oats are oat groats that have been steamed and flattened so they cook even faster as they've been pre-cooked.
Instant oats have been steamed even further to really pre-cook them (that's why they cook so fast). They've also been chopped into little tiny pieces, almost to a powder, like you find in those instant oatmeal packets.
So back to the question at hand.
Steel-cut oats are a great breakfast option because they are a less-processed version of the oats you might typically be eating. This has a few benefits:
Fewer calories (about 20 less per 1/4 cup)
Less sugar
Lower glycemic index
Check out more information and a full detailed comparison via Prevention here.
From a taste perspective I also find them a little nuttier and also chewier. They also make for a thicker, heartier consistency.
The problem is that steel-cut oats take longer to cook because they have only been chopped up, not pre-steamed and flattened for you like rolled and instant oats. Which brings us to…
The 3 Reasons you Should Freeze your Oatmeal
It will allow you to eat the less processed steel-cut oats daily without all of the time and attention that it takes to make them: Just cook up a big batch once, freeze them as outlined below, pull out a "puck" in the morning and you'll be eating wholesome, nutritious oatmeal in no time at all.
You can easily microwave them without the dreaded explosion: I can't be the only one who's been stuck cleaning off month-old soup splatter from the office microwave after having a bowl of oatmeal overflow. This has happened more times than I'd like to admit while trying to make microwaved rolled oats. Not so with this frozen steel-cut technique.
Even your (older) kids can make them in the morning: Since these steel-cut oats are all cooked you don't even need to touch the stove. Throw a "puck" in a bowl in the microwave, add a splash of milk or water, and heat up in 1 minute increments until warmed through. Giving them a stir between increments can help. If your kids (or husbands) are even older you can also heat these quickly in a pot on the stove with a splash of liquid added.
How to Make Frozen Steel-Cut Oats
Have I convinced you yet? Great! Let's get to it.
Ingredients
1 cup steel-cut oats
4 cups water
Pinch of salt
Dash of vanilla and cinnamon (optional)
Instructions
Bring oats, water, salt, and seasonings (if using) to a boil in a pot. Reduce to a simmer and cook about 25 minutes. Stir occasionally to keep oats from sticking to the bottom of pan.
Slow-cooker alternative: Place ingredients in slow-cooker and set for 8 hours on low.
To freeze: Cool oats in a shallow pan. Fill silicone muffin tin with scoops of oats and place in freezer. Once frozen through (a few hours), remove from muffin tin and place in a large, labeled Ziploc bag for future use.
http://cookingwithafullplate.com/3-reasons-freeze-oatmeal/
It's really that simple!  Here's what your end result will look like after following the freezing method listed above and in my make-ahead guidelines post: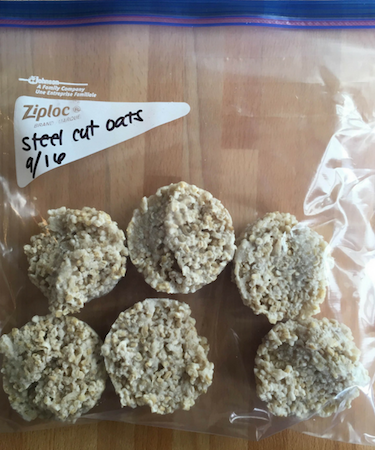 Delicious Ways to Spice-up your Steel-Cut Oats
You may have seen some pretty pictures floating around Pinterest of folks who pre-top their frozen "oat pucks" in the freezer so that everything is ready to go. I actually prefer not to do this because I find that if you leave the oats plain you have much more flexibility in how to flavor them any day.
Preparing your preferred toppings is easily done while the oats defrost and warm-up.  Here are some ideas to get you started: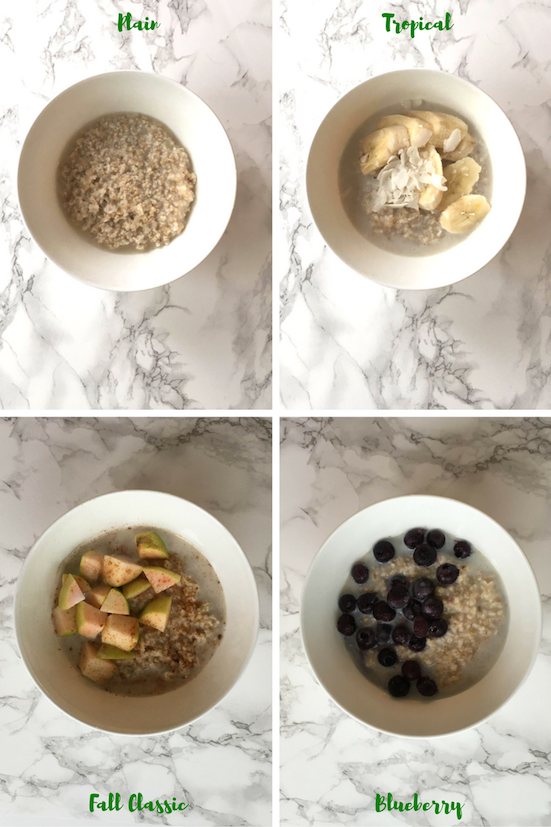 Plain: For your traditionalists! We often enjoy plain oats with a big scoop of peanut butter and call that breakfast.
Fall Classic: This version is topped with a chopped up apple and a dash of cinnamon. Bonus points if you add some walnuts!
Tropical: This one is just sliced bananas and coconut. Mango would be great here too!
Blueberry: A super toddler friendly option! I just threw some frozen blueberries on top at the end of warming up the oats, which both cooled down the oatmeal and defrosted the berries without making them into mush.
What's your favorite way to flavor your oatmeal?