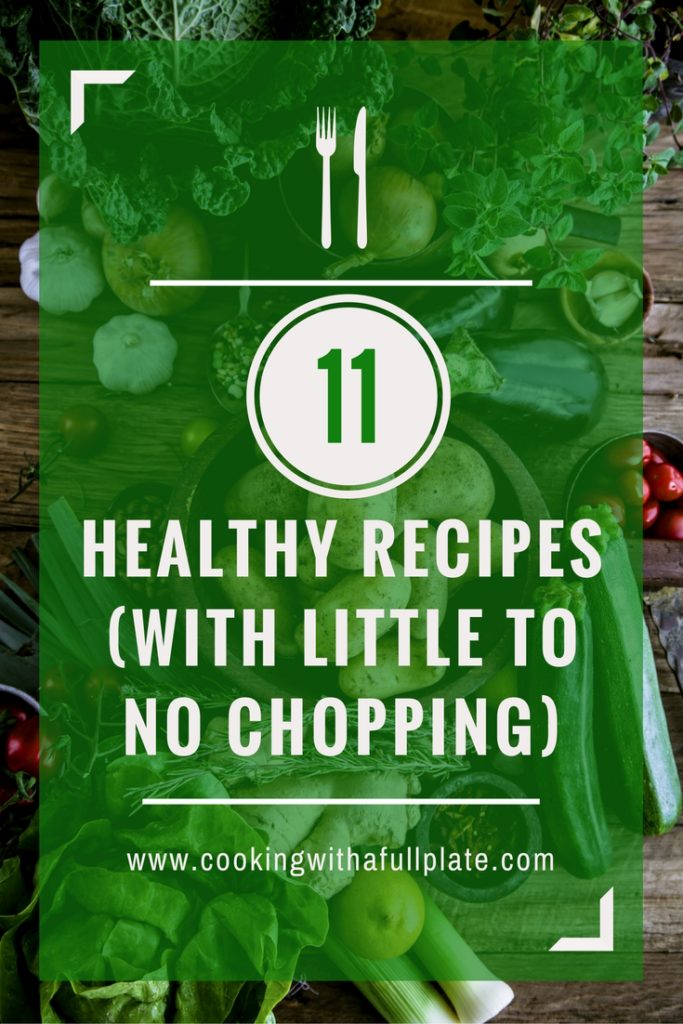 Hate chopping up veggies for dinner? You're not alone. Luckily, there are ways to make tasty meals for your family without spending hours in the kitchen hovering over a cutting board. I've compiled a list for 11 easy, healthy recipes with little to no chopping required to show you how!
But first:
Learn to Love Chopping
The truth is, it's going to be really hard to make healthy meals for your family if you are unwilling to chop up some tasty fruits and vegetables. So since some chopping may in fact be required, here are some ways to hate it less:
This is the first thing I always ask my clients: "What kind of knife are you using?" "When is the last time you sharpened it?" If you're anything like 90% of them (or my parents, shamefully) then you're probably using sub-par materials. No, you don't need to invest in a $100 knife, but you should probably stop trying to chop things with a steak knife or tiny paring knife.
Here's my personal favorite, which costs about $40: The Victorinox Chef's Knife. I've been using the 10 inch version for years, but you may want to start with the 8 inch one if you're not regularly chopping up butternut squash and watermelons.
Have a knife that just isn't performing like it used to? Get thee to a professional knife sharpener, they can bring it back to life for well under $20.
Buy a great cutting board
A good cutting board will not only keep your new (or newly sharpened) knife sharp, but it should also give you plenty of space to chop so that you don't have food flying everywhere. I love this 17.5×13 one by Epicurean because it's knife-friendly, dishwasher-safe, and doesn't move around while you're chopping on it.
Use your food processor when chopping in bulk
A food processor is key if you want to chop up a whole bunch of veggies at one time – say carrots, onions, and celery as the base for a soup. Just roughly chop them into chunks and then pulse in a food processor to let it do the work for you. It won't be nearly as precise or pretty as dicing them by hand but I doubt you'll notice while you slurp down your delicious, homemade meal.
This is by far the biggest way that you can learn to hate chopping less. Ready to embrace chopping and pump up your skills? Check out my 5 Tips to Chop Faster.
Healthy Recipes: No Chopping Required
Don't worry, I have in fact rounded up some no-chop, healthy recipes in the event that you are still in the "hate" phase of your relationship with veggie cutting.
I haven't tried these all myself, but I looked them over with a culinary eye and think they're pretty solid especially if you season them to your liking. Plus, I added in my own 2 cents on how to easily turn each one into a healthy meal. Now, get cooking!
Want to turn your favorite recipe into a no-chop one?
This is the section for you if none of these healthy recipes appeal to your family's tastes or you have a favorite recipe you wish you could make with less prep. You can minimize the chopping required in most recipes with a few simple steps.
Here's how:
Use frozen fruits and veggies: Someone has done the cleaning and chopping work for you! Plus, they are frozen at peak freshness so they're packed with super healthy nutrients. Rely on these for easy stir-frys, fajitas, or just steamed veggies on the side.
Buy pre-chopped garlic and ginger: While in a perfect world I really do prefer fresh because the flavor is better, pre-chopped garlic and ginger (and onions and more) are a great fall-back option, especially when it's the deciding factor between making a homemade meal or not.
Use your food processor: See the first section of the article for tips on using the food processor when chopping lots of things at once. This is a sure-fire way to cut down the time and frustration of getting everything finely diced.
Pay someone else to do the chopping: Yes, you'll pay a bit more if you want to get pre-cut veggies, but Trader Joe's and Whole Foods Market have some great options. In a pinch, I'll let them do the work for me and use pre-chopped veg in a casserole, stir-fry, or pasta dish. Ultimately, it might cost a little more than uncut produce, but it's probably cheaper (and better for you) than takeout!
Want more quick and healthy dinner inspiration? Check out my Pinterest board with over 50 easy, nutritious meals for any night of the week.
What is your favorite no-chop meal? How do you minimize the prep tasks in your kitchen?